Latching Relays
Latching Relays
Find out about latching relays and their uses
electronics
|
electric circuit
|
general
&nbsp
Printer Friendly Version

A
latching relay
is a special kind of
relay
. While a conventional relay uses power continuously when its internal switch is to be closed (relay energised), a latching relay requires only a brief voltage pulse to change state. This makes
latching relays
perfect for any situation in which energy saving is important - for example battery powered systems where the relay needs to stay energised for extended periods of time.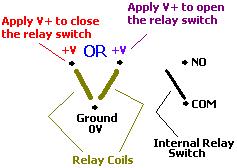 There are different configurations of
latching relay
, but the simplest to understand and use has three (or four) coil terminals rather than the two found on a conventional relay. If a high enough voltage (specified in the rating of the relay) is put across one pair of these terminals, the relay switch will close and stay closed even when the voltage is removed. If the same voltage is put across another combination of two of the three (or four) terminals, the relay switch will open again and stay open even when the voltage is removed.
Whether the voltage across the terminals is there for just
20 milliseconds
, stays on for 10 seconds, or goes on and off randomly for a all day, the effect will be the same - the relay will
change state
once
and then remain in the new state until a voltage is put across the other terminals. Therefore, although you typically need an electronic solution to generate the necessary pulses of voltage, you don't have to be too exact about things.
In order to control
latching relays
we typically use a
PICAXE microcontroller
since these have multiple outputs and so can easily be programmed to send the brief voltage pulse to either open or close the relay's internal switch as required.
Buy a Latching Relays
Latching relays are not always that easy to find - particularly if you need to use one to switch a high current (>2 Amps) - however they are available online relatively inexpensively. A good starting point is to search
ebay
. Click here to search for the current listings for
Latching Relay
.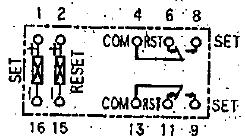 Click here for a wide selection of
Latching Relays
available on sale.
Make Your Own Latching Relay
NEW Click here to find out how to
Make your own Latching Relay
.

Article Last Modified: 11:16, 28th Nov 2012
Comment on this Article
If you have any comments on this article, please email them to
neil@reuk.co.uk
.
---
Recommended Related Articles
People who read this article also enjoyed the following articles:
Latching Relay Circuit
Find out how to make a latching relay circuit from a non-latching relay
Article Last Modified: 10:32, 1st Aug 2012
electronics
|
electric circuit
|
general
Using The LM317T With LED Lighting
Use an LM317T to regulate the current in LED lighting projects
Article Last Modified: 12:47, 12th Mar 2008
lighting
|
electric circuit
LM317T Voltage Regulator Chip
Learn about the LM317T and its uses in renewable energy projects
Article Last Modified: 14:35, 9th Sep 2008
electronics
|
electric circuit
Switch from Inverter to Mains Automatically
Power a circuit directly from a power inverter, but with automatic mains power back up.
Article Last Modified: 11:16, 28th Nov 2012
electric circuit
|
storage
|
general
PICAXE Microcontrollers
Find out about PICAXE microcontrollers and their use in renewable energy projects
Article Last Modified: 13:12, 30th Jan 2012
electronics
|
electric circuit
|
education
Power Inverters
Find out about the uses of power inverters in renewable energy generation
Article Last Modified: 16:41, 21st Jul 2008
storage
|
general
|
electronics
Butanol vs Ethanol Fuel of the Future
A brief introduction to Butanol/Biobutanol as an alternative to Ethanol
Article Last Modified: 11:55, 19th Apr 2013
biomass
|
transport
|
education
|
news
Make a Stirling Engine
Make your own Demonstration Stirling Engine
Article Last Modified: 10:03, 9th Aug 2012
thermoelectric
|
education
Buy a 12v Power Supply Unit
Find out more about 12V mains transformers and power supply units
Article Last Modified: 11:16, 28th Nov 2012
electric circuit
|
storage
|
general
Basic 4 AA Solar Battery Charger Plans
Make a simple solar charger for 4 AA rechargeable batteries
Article Last Modified: 09:43, 30th Jul 2007
solar
|
education