Paper Log Briquette Maker
Paper Log Briquette Maker
Find out how to turn old newspapers into briquettes for the fireplace or stove
heating
|
recycling
|
biomass
|
carbon
&nbsp
Printer Friendly Version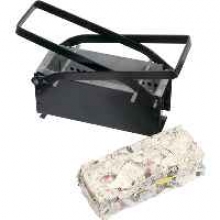 Pictured above is a
paper log briquette maker
together with a paper log briquette. If you enjoy reading newspapers and you have a multi-fuel stove or open fireplace, a paper log maker offers a great way to
recycle
, reduce your
carbon footprint
, and heat your home for free.
How does it Work?
There are a few different designs of
paper log briquette makers
out there, but they all work in pretty much the same way. Soak waste paper (shredded newspaper and other papers, cardboard) and/or wood chippings / sawdust in water over night. The soggy pulp created can then be put into the
log maker
and the handles squeezed to remove all of the moisture. Leave the
paper briquette
to dry out fully (for a week or two), and then throw it in the fireplace.
Well compressed paper log briquettes will burn well for a couple of hours and leave behind very little ash. They can also be lit easily without the need for chemical fire-lighters.
Buy a Paper Log Maker

Pictured above is the
Briquette Maker
from
Ethical Superstore
which is priced at just
£16.95
. Click here to
buy Briquette Maker
now.

Pictured above is a (
no soaking
required)
logmaker
made from
recycled plastic
. This is also available from
Ethical Superstore
for around
£25
. This will make small
logs
(which will burn for up to 1 hour).
Click here for more information and/or to
buy Recycled Plastic Logmaker
now.
NEW - Click here now to view the
instruction manual
(PDF download) for this logmaker product.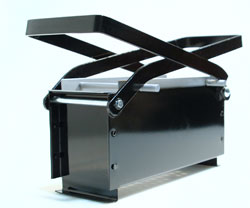 A wide range of other
paper log makers
are available for sale on
eBay
. Click here to view the latest listings of
Paper Log Briquette Makers
. Prices range from under £10 for a very basic (and flimsy) model to up to around £20 for a model which should last a lifetime.

Article Last Modified: 15:44, 16th Sep 2011
Comment on this Article
If you have any comments on this article, please email them to
neil@reuk.co.uk
.
---
Recommended Related Articles
People who read this article also enjoyed the following articles:
LED Dimmer Circuit
Find out how to put together a simple but efficient PWM dimmer circuit for LEDs
Article Last Modified: 09:42, 16th Mar 2011
lighting
|
electronics
|
electric circuit
Flush Toilet with Rain Water
Flush your toilet with collected rain water
Article Last Modified: 10:06, 8th Oct 2012
water
|
education
|
general
Reduce Reuse Recycle
Find out ways to reduce, reuse, and recycle to save money and reduce waste dumped in landfill
Article Last Modified: 10:24, 28th Mar 2011
recycling
|
general
Using The LM317T With LED Lighting
Use an LM317T to regulate the current in LED lighting projects
Article Last Modified: 12:47, 12th Mar 2008
lighting
|
electric circuit
Karasouli SCC 50 Wind Turbine Charge Controller
Find out more about the SCC-50 wind turbine simple charge controller and dump load controller
Article Last Modified: 12:32, 1st Nov 2012
wind
|
electronics
|
shopping
Light Dependent Resistor
Find out more about LDRs and their use in renewable energy projects
Article Last Modified: 09:26, 24th Oct 2007
electric circuit
|
solar
Radiator Booster
Read our Radiator Booster (and new Radiator Booster Mk2) product review
Article Last Modified: 14:43, 16th Jan 2009
heating
|
energy efficiency
|
shopping
Solar Tracker
Set up solar panels to track the motion of the sun across the sky to maximise power output
Article Last Modified: 10:46, 27th Jan 2012
solar
|
electronics
UK Biodiesel Processor Equipment
Find a supplier of Biodiesel equipment in the UK
Article Last Modified: 16:22, 6th Apr 2010
biomass
|
transport
PVC Wind Turbine Blades
Learn how to make your own PVC wind turbine blades
Article Last Modified: 15:16, 19th Aug 2008
wind