Permanent Magnet Generator
Permanent Magnet Generator
Build a wind or water power system with around a PM Generator
wind
|
hydro
&nbsp
Printer Friendly Version

While it is possible to build your own
alternator
from powerful
Neodynium Magnets
and coils of
enamelled wire
an amateur should consider purchasing a ready made and tried and tested
Permanent Magnet Generator
for their
Wind Turbine
. Wind turbine blades (for example, home made DIY
PVC
or
carved wooden
blades), a
waterwheel
(connected through a gear box), or even a bicycle can then be attached to spin the generator and produce
AC electricity
.
The generated electricity must then be passed through a suitable
Bridge Rectifier
(
35A rectifiers
available for sale here from £1.79 each) to produce
DC electricity
which can be stored in
batteries
and/or passed through a
power inverter
for domestic use.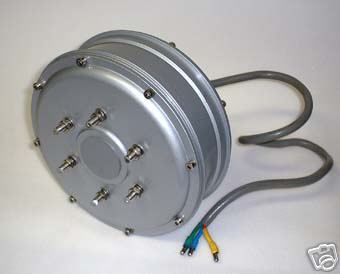 Pictured above is such a
Permanent Magnet Generator
(used by Dick Strawbridge in BBC2's
It's Not Easy Being Green
on his
Waterwheel
) available in 12, 24, 36, and 48 Volt configurations. Gearing wastes energy and generates nuisance noise, so PM-Generators for
wind
(and
waterwheel
etc) applications are designed to produce high power outputs at low RPM.
This
Futurenergy
model weighs in at just 7kg and the main body is just 18 x 7cm. The 12V model generates 662 Watts at 380 RPM, and 53 Watts at just 260 RPM. The 48 Volt model generates just 42 Watts at 380 RPM, but 1472 Watts at 610 RPM.
Higher voltage generators are more suited to locations with high average wind speeds and strong gusts, and the lower voltage generators more suited to locations with lower wind speeds on average and limited gusts.
Buy a Permanent Magnet Generator
The cheapest place to purchase a
permanent magnet generator
suitable for use in renewable applications is usually
eBay
. Click here to search eBay now for
Permanent Magnet Generator
, or here for
Permanent Magnet Alternator
. (Far fewer results are usually returned when searching for
alternator
rather than
generator
although these devices are all technically
alternators
since they output
A
C electricity.

Article Last Modified: 16:43, 6th Apr 2010
Comment on this Article
If you have any comments on this article, please email them to
neil@reuk.co.uk
.
---
Recommended Related Articles
People who read this article also enjoyed the following articles:
PVC Wind Turbine Blades
Learn how to make your own PVC wind turbine blades
Article Last Modified: 15:16, 19th Aug 2008
wind
Stepper Motor Basics
Learn more about stepper motors and their use in RE electricity generation
Article Last Modified: 09:54, 4th Apr 2007
wind
|
education
Electricity with Stepper Motors
Find out the basics of generating electricity with stepper motors
Article Last Modified: 17:07, 10th Jun 2008
wind
Three Phase Basics
Get an understanding of three phase wiring in wind turbine alternators
Article Last Modified: 15:13, 19th Aug 2008
wind
|
electric circuit
|
websites
DIY 2kW Wind Turbine
Read about a home built 2kW wind turbine constructed from scrap
Article Last Modified: 08:46, 4th Oct 2007
wind
|
recycling
Wind Turbine Alternator Basics
Find out how coils of wire and magnets are used to make electricity in a wind turbine alternator
Article Last Modified: 09:19, 11th Apr 2007
wind
|
education
Buying Neodymium Magnets
Buying neodymium magnets in the UK
Article Last Modified: 10:15, 23rd Jul 2008
general
|
wind
|
wave
Make a Mini Wind Turbine Battery Charger
Convert a PC fan into a wind turbine battery charger
Article Last Modified: 20:19, 7th Aug 2012
wind
|
electronics
|
education
Pumps for Solar Water Heating
Find a suitable water pump for a solar water heating system
Article Last Modified: 11:15, 20th Dec 2006
heating
|
solar
VAWT Vertical Axis Wind Turbine
Understand the advantages and disadvantages of VAWTs
Article Last Modified: 10:36, 26th Oct 2010
wind