Switch from Inverter to Mains Automatically
Switch From Inverter To Mains Automatically
Power a circuit directly from a power inverter, but with automatic mains power back up.
electric circuit
|
storage
|
general
&nbsp
Printer Friendly Version

The majority of domestic
renewable energy
is generated to supplement an existing mains power supply - for example, an array of
solar panels
used to reduce the costs of powering a home.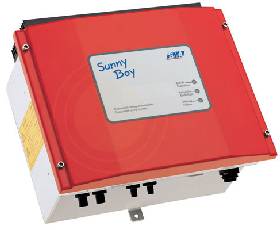 Unfortunately the cost of
grid tie inverters
with UK
G83
approval (and professional installation) puts them well outside the price range of most small to medium
microgenerators
. Therefore, if a microgenerator with let's say one 150 Watt solar panel and
battery backup
wants to power a
lighting circuit
in their home, they will need to look for alternative means to achieve their goal.
One way would be to separate the chosen
lighting circuit
completely from the mains power supply, connecting it directly to a suitable
power inverter
in turn connected to the renewable system
battery bank
. (See our article
Dual Powered Lighting Circuit
).
However, is not an optimal solution since
manual intervention
is required when the batteries become discharged. Ideally we need a way to power the
lighting circuit
from the renewable source, but with an
automatic
way of switching back to
mains power
when necessary.
Using a Relay to Switch from Inverter to Mains Power
All
power inverters
have an automatic shut off function which prevents the attached
battery bank
from being overly discharged. When the voltage of the batteries falls to a certain fixed level, the inverter simply stops supplying power (sometimes sounding an alarm/buzzer at the same time). Using this information we can put together a simple
automatic mains/inverter switch
using just a
230VAC DPDT Relay
.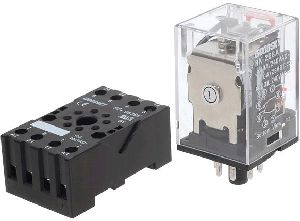 A
DPDT relay
(pictured above) has eight connections - two for the
coil
which should be connected to the live and neutral outputs from the power inverter, two
NO
's, two
NC
's, and two
COM
's. When the relay is energised (i.e. when there is 230VAC across the coil from the inverter), NO1 is connected to COM1 and NO2 is connected to COM2. When the relay is not energised (when the power inverter is not putting 230VAC across the coil), NC1 is connected to COM1 and NC2 is connected to COM2.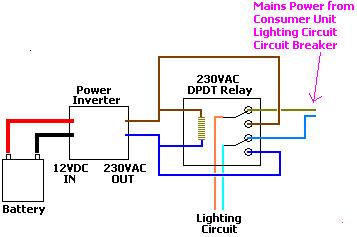 Therefore, connecting the relay up as shown in the schematic diagram above (and the connection list below), the lighting circuit will be powered by the
inverter
when it is on, and the rest of the time by mains
electricity
. The switchover occurs in the fractions of a second.
Connections
:
Inverter Live to Relay Coil
Inverter Neutral to Relay Coil
Relay COM1 to Lighting Circuit Live
Relay COM2 to Lighting Circuit Neutral
Mains Live to Relay NC1
Mains Neutral to Relay NC2
Inverter Live to Relay NO1
Inverter Neutral to Relay NO2
Buy a DPDT Power Relay
The
relay
pictured in this article is available for around £2 plus £1 for the socket from
Rapid
, for around £4, or from £0.99 from this search on eBay UK:
DPDT Relay
.
Safety
DISCLAIMER
-
mains electricity can KILL. We recommend that you talk to a qualified electrician before attempting to implement any of the ideas discussed in this article.
Further details on the implentation of this scheme have not been included since if you do not know how to do it, you really should not be doing it!

Article Last Modified: 11:16, 28th Nov 2012
Comment on this Article
If you have any comments on this article, please email them to
neil@reuk.co.uk
.
---
Recommended Related Articles
People who read this article also enjoyed the following articles:
VAWT Vertical Axis Wind Turbine
Understand the advantages and disadvantages of VAWTs
Article Last Modified: 10:36, 26th Oct 2010
wind
Power Inverters
Find out about the uses of power inverters in renewable energy generation
Article Last Modified: 16:41, 21st Jul 2008
storage
|
general
|
electronics
Solar Panel Mounting Angle
Find out how to position a solar panel to maximise power output
Article Last Modified: 08:08, 12th Dec 2012
solar
|
education
Make a Mini Wind Turbine Battery Charger
Convert a PC fan into a wind turbine battery charger
Article Last Modified: 20:19, 7th Aug 2012
wind
|
electronics
|
education
Water Heating with Surplus Solar PV
Heat water with surplus solar generated electricity
Article Last Modified: 16:35, 10th Aug 2012
solar
|
water
|
general
Dual Powered Lighting Circuit
Power a lighting circuit from renewable energy or mains electricity
Article Last Modified: 08:18, 14th Nov 2007
lighting
|
electric circuit
Permanent Magnet Generator
Build a wind or water power system with around a PM Generator
Article Last Modified: 16:43, 6th Apr 2010
wind
|
hydro
Interconnecting Batteries for Battery Bank
Find out how best to connect batteries together into a battery bank
Article Last Modified: 13:53, 23rd Feb 2007
storage
Buy a VAWT Vertical Wind Turbine
Understand the advantages and disadvantages of VAWTs
Article Last Modified: 10:37, 26th Oct 2010
wind
Wireless Electricity Monitors
Up to date details of the wireless electricity monitors for sale in the UK
Article Last Modified: 13:29, 24th May 2012
shopping
|
energy efficiency
|
carbon