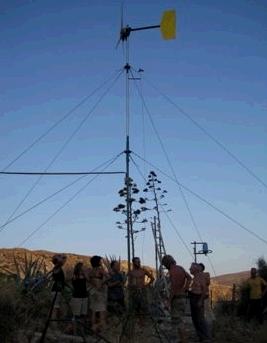 V3 Power are a DIY renewable energy cooperative, who run courses teaching people about small scale renewable energy technologies. Their main activities are how to build a wind turbine courses, other activities include building and running courses in solar water heating, off-grid electrical systems, bike generators and biomass heaters. We also have experience in installation and maintenance of home built wind systems.
Wind Turbine Workshops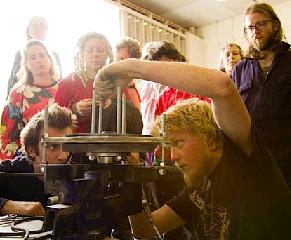 During these workshops you will be manufacturing a small wind turbine to the design of Hugh Piggott, who has been building and designing wind turbines for over 25 years. The design came from a joint project with ITDG (now Practical Action) to produce a design for a low cost, easy to manufacture wind turbine that can be replicated anywhere in the world using locally sourced materials, using basic hand tools to manufacture and only requiring a basic engineering knowledge. Hugh has since released a wind turbine recipe book which outlines plans and instructions for building a variety of different sized wind turbines. His ideas of sharing technology openly and cheaply have been a big inspiration to V3 power. More information on courses, projects, and designs are on his website – Scoraig Wind.
Course Objectives
Wind turbines are built to a variety of specifications:
Blade diameter: 1.2m, 2.4m, 3.6m
Rated Power (at 12m/s): 150W, 700W, 1kW
Stator Voltage: 12V, 24V, 48V
The wind turbine consists of 3 wooden blades carved from solid pieces of wood using hand tools. The alternator consists of rotors containing permanent magnets, and a stator which has hand wound copper coils. Both parts of the alternator are cast in polyester resin. The mounting which holds everything together is a welded steel frame manufactured from steel bar and angle sections. There is a tail and furling mechanism which is made from steel pipe.
Practical Bases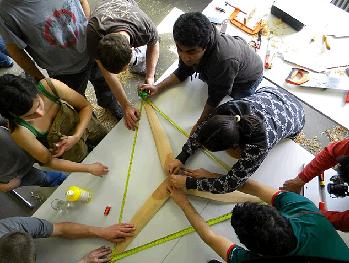 The workshop group is split into three teams, which will rotate around 3 bases. At important stages during construction the whole group joins together, this way everybody has a part to play and gets to see all stages of the wind turbine construction. The workshop bases are as follows:
Woodwork:
Carving the blades from wood, introducing basic wood working skills such as using drawknifes, spokeshaves, planes, mallets and chisels.
Metalwork: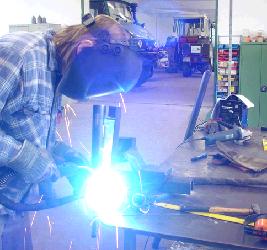 Manufacturing the steel mounting that holds everything together, using metalworking skills such as welding, grinding, drilling and basic metal work. On the week-long courses we will also manufacture a tower.
Electrical Systems:
Manufacturing the permanent magnet alternator which includes winding coils, glueing magnets, preparing moulds for casting. The base also covers assembling the electrical system.
The course is primarily practical, although there will be presentations covering theory and background information to the turbine. Theory session include:
Wind Power Basics
Blade design
Alternator design
Installation
Tower design
Electrical systems
Turbine Maintenance
Course Costs
The courses are priced as follows:
Weekend Courses (2 days): £100, 150, or 200 for low-, mid-, or high-waged participants respectively.
Week Long courses (5 days): £350, 400, 450 for low-, mid-, or high-waged participants respectively.
All costs include food and accommodation for the duration of the course. The money goes towards materials and tools for the course, wages for the instructors and running costs for the cooperative.
More Information and Contact Details
More information about the V3 Power and the courses that they run can be found here at v3power.org.