The original energy efficient
Eco Kettle
is one of the most popular '
eco
' products on the market reducing the amount of electricity used to boil water by ensuring that you only boil the water you need when you need it.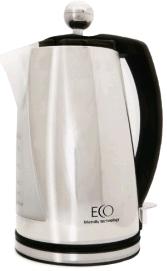 The next generation Eco Kettle 2 is now on the market (September 2009).
As of June 2011, Eco Kettle 2 has been replaced with the new Eco Kettle 3 which offers temperature control.
The new Eco Kettle 2 has a 2.2kW concealed stainless steel heating element (rather than the original 3kW element) and the same 1.5 litre capacity. It has a 360° base – i.e. the cordless kettle can be put onto the base facing in any direction for convenience, a washable limescale filter, and it has Strix steam control and boil-dry protection.
Eco Kettle 2 is supplied with a 12 month warranty.
Buy Eco Kettle 2
The Eco Kettle 2 is available for £39.95. Click here to buy Eco Kettle 2 now from Ethical Superstore.
NEW – Read our article on the newer Eco Kettle 3 here.