After the original energy efficient Eco Kettle, and the next generation Eco Kettle 2 – Chrome launched in August 2009, the new improved Eco Kettle 3 is now (June 2011) available.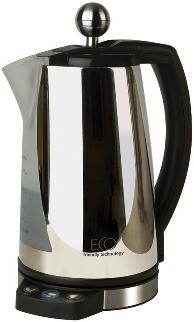 The new Eco Kettle 3 features the same dual chamber design as Eco Kettle 2 enabling it to be filled with 1.5 litres of water, but only heat as much water as you actually require. It also comes with the same high spec chrome finish. The new clever feature Eco Kettle 3 offers is temperature control.
Almost all kettles are designed to be filled with water, turned on, and then run until the contents are boiling. There are however many situations where water at boiling point is too hot, and so heating it that much is just a waste of energy – for example, coffee is best made with water heated to only 90 degrees Celcius, and some speciality teas are best brewed with water heated to just 80 degrees Celcius. Eco Kettle 3 therefore has three temperature settings – 80 degrees, 90 degrees, or boiling. You just select the temperature setting you require, press the button, and the kettle will automatically turn off when the water is at the desired temperature.
The new Eco Kettle still has the 360° base – i.e. the cordless kettle can be put onto the base facing in any direction for convenience, a washable limescale filter, and Strix steam control and boil-dry protection. It also has internal illumination, illuminated buttons, and audible 'ready' signal, and a locking lid.
Eco Kettle 3 is supplied with the usual 12 month warranty.
According to independent trials, Eco Kettle 3 uses an average of 31% less energy than any other kettle.
Buy Eco Kettle 3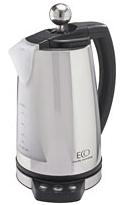 The Eco Kettle 3 is available for £59.99 Click here to buy Eco Kettle 3 now from Nigel's Eco Store.