The ecolectric toaster from Morphy Richards is one of the first toasters in the world to be designed to be energy efficient and made from materials which can be recycled. Even the packaging is 100% recycled and 100% recylable.
Ecolectric Toaster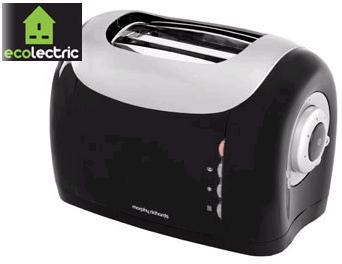 Although this two-slice toaster is designed with energy efficiency in mind, it is very good looking and solidly constructed. Morphy Richards have not scrimped on the features with toast from frozen (defrost) and reheating functions included.
The biggest innovation is the auto-close lid which helps to keep heat in the toaster speeding up the toasting process and saving energy. This is coupled with a motorised bread carriages (for lowering and raising bread from the toaster) which gadget lovers will appreciate. Bread and buns of varying widths can be toasted and there is a bagel mode so that you can toast bagels to perfection.
Electricity Consumption Measurements
The manufacturers claim that their ecolectric toaster uses 34% less energy than standard toasters (tested against Morphy Richards or competitors' standard product). It is very difficult to test these claims accurately – particularly since it is difficult to identify 'standard products' to compare the ecolectric toaster against – however, it certainly does toast quickly! It is however very easy to measure the electricity consumption of the ecolectric toaster using a plug in power meter.
Many people leave their toaster plugged in at all times, therefore the first measurement we took was the standby power consumption. This was found to be just 1 Watt – therefore if the toaster is left plugged in constantly it will get through almost 9kWh (units) of electricity per year at a cost of around £1.50. Note that most standard toasters use no power when not switched on, so you need to remember to unplug this green toaster.
Secondly we measured the power consumption of the opening and closing mechanism and found it to be 4.6 Watts (for 6.5 seconds each time). This is very insignificant as it means you can open and close the lid over 60,000 times before you've used even one 1Wh of electricity.
When the toaster is toasting, defrosting, or reheating it draws 1,100 Watts of power at all times – the only thing that changes is the duration that the heating elements are on. For example, when reheat mode was selected the toaster was on for 40 seconds using 0.009kWh of electricity; when toasting (browing level 5) it was on for 90 seconds using 0.026kWh of electricity; and when defrosting (and toasting to browning level 5) it was on for 105 seconds using 0.031kWh of electricity.
Therefore, if someone were to use this toaster every day to cook four slices of bread to average brownness, they would used around 0.05kWh per day and 18kWh per year (at a cost of approximately £3.00). Note that leaving the ecolectric toaster plugged in at all times would increase electricity consumption by 50% due to standby power wastage and would therefore more than cancel out the claimed 34% energy saving!
Disadvantages of the Ecolectric Toaster
There are one or two minor disadvantages of this toaster over standard toasters. It's key feature – the auto-close lid – prevents you from observing bread as it toasts. Therefore if you are toasting a particularly thick piece of bread, or a type of bread you have never toasted before, you have to guess the correct level of browning to set at the start and hope that the toast comes out as desired when the lid opens.
The lid also makes it impossible to make toast from breads with a large area such as whole pitta breads. With a standard toaster it is possible to drop in a pitta bread (or other large piece of bread) and toast one half before rotating it through 180 degrees and toasting the other half. A piece of bread which would typically stick just out of a standard toaster must be cut to size before being put into the ecolectric toaster.
Finally, as this toaster has a large protroding electronic button rather than a mechnical push down lever to start toasting, if the toaster is positioned on a crowded work surface and left plugged in all the time, it is possible to accidently start the toasting process on an empty toaster unnoticed (since the toaster is virtually silent).
Conclusions
This is a very good looking, well made toaster which toasts breads, bagels, buns, and crumpets etc to perfection. It is also simple to use, easy to clean, and rich with functions. The auto-close lid definitely makes a difference speeding up the toasting process by retaining heat as claimed. The lid also helps the toaster to make a much better job of toasting bread from frozen as it does not suffer from the common problem of burning the outside of the bread while the inside is still cold.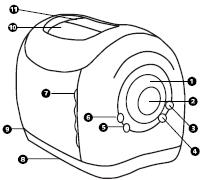 The supplied printed instructions are clear and easy to understand and the packaging looks good despite being made from 100% recycled materials. The only thing to remember is to unplug the ecolectric toaster when not in use (sound advice for any toaster) so that any energy savings are not cancelled out by standby power usage.
Forgetting about its eco-credentials, it would be difficult to beat this toaster for its £35 to £40 retail price. Therefore when you factor in the recycled and recycleable materials, and the energy savings possible, this toaster is great value for money.
More Information
Click here to view the Ecolectric Toaster Instruction Manual (PDF). The product is supplied with a 2 year guarantee for peace of mind.
Buy the Ecolectric Toaster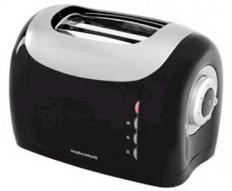 If you are interested in this, then you may be interested in this article: Energy Efficient Eco Kettle, and the information we have on the Tefal Quick Cup Eco Kettle.