Ewgeco is a product which mixes the benefits of a wireless power meter (see Efergy Elite, Wattson, Eco-Eye, and Owl for examples) and a smart meter. However, in addition to monitoring electricity usage, it also monitors water and gas consumption giving a full picture of resource usage in a building.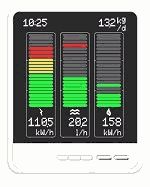 Ewgeco can be connected wirelessly to existing analogue electricity meters as well as to the latest pulsed electricity, water, and gas meters. Soon a version of Ewgeco will be developed for the smart meters which will be replacing meters in homes and business across the UK during the next 10 years.
At present Ewgeco is only available for local authorities, business, and home builders etc, but a version to be retro-fitted to domestic homes will hopefully go on sale during 2009.
How Ewgeco Works
During the first seven days after installation, Ewgeco learns the typical consumption patterns of the occupants of the building. This callibrates the traffic light display which is used to present whether realtime usage is normal, moderate, or high. Peak consumption of each utility during each day is displayed until midnight when it is reset ready for the next day. Up to 13 months of consumption data can be stored on Ewgeco, and that data can also be uploaded to the internet using the My Ewgeco website where it can be displayed in tables or graphs for analysis.
One complication with Ewgeco is that it must be installed by a qualified electrician – ideally by an Ewgeco nominated installer.
Ewgeco Story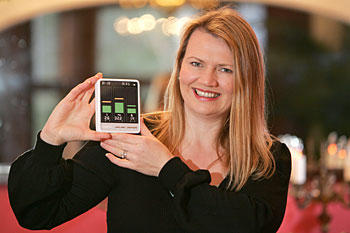 The idea for Ewgeco came from Tany Ewing in 2006 which led to her being named British Female Inventor of the Year 2008. The Ewgeco company now employs 40 Staff in Perth, Scotland and has obtained funding from 15 shareholders.
Buy Ewgeco
Click here to visit the Ewgeco website for more information or to purchase Ewgeco and for more information about the product.