Every home should have thick loft insulation as an energy saving start point since so much heat will otherwise escape through the roof. If the home has uninsulated cavity walls then cavity wall insulation is the obvious choice. However for older homes build with solid wall construction, there has always been the problem of how to insulate the walls and stop heat escaping.
One option is to line all external walls on the inside of the house with insulation boards (interal solid wall insulation). This results in those walls needing to be re-plastered, re-decorated, and any electrical sockets and switches etc to be re-positioned. It also reduces the square-footage of the room by a small percentage, and is very disruptive to the home-owner. The alternative which is becoming more common is external solid wall insulation.
External Wall Insulation
External solid wall insulation is insulation which is mounted to the exterior of a property on all of the solid walls. This can be achieved without any internal disruption or damage, and it will get rid of any pre-existing problems with bad render, damaged pointing, cracked walls, penetrative damp, and old paintwork.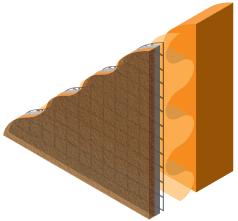 After the external walls are made sound, insulating boards of 25-50mm thickness are either glued or screwed to the solid walls. To the whole surface a re-inforcing metal net or mesh is then fitted to be covered over by a coat of render or cladding and the final decorative finish.
The Costs and Benefits of Solid Wall Insulation
External wall insulation is somewhat more expensive than the costs of insulating the same walls on the inside of a house, but if done at the same time that old render or pointing was to be replaced and/or paintwork was to be re-done, it can still be cost effective. In addition many grants are available for retrofit home insulation work such as this which helps to bring the payback period right down.
Fitting external solid wall insulation can cut heating bills by 25-40% instantly, which is a cash saving of around £400 per year for the average home at today's (2011) prices, and will lead to much higher cash savings as the price of heating continues to rise.
Having external solid wall insulation installed for an average home will cost around £5-10,000. Expect to pay approximately £50 per square metre.
Added benefits are improved weatherproofing of the property, improved appearance, and increased lifetime for the now protected brickwork of the walls. It will also increase the resale value of the property.