With the recent fashion for tearing up carpets and exposing stripped wooden floorboards an old problem has reared its ugly head – cold draughty floors. Up to 15% of the heat in a home can be lost through the floor which at current electricity and gas prices is expensive, it is very wasteful, and cold draughts at foot level are unpleasant.
DraughtEx Floorboard Insulation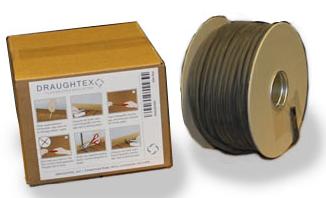 Pictured above is a new product DraughtEx Floorboard Insulation – a flexible floorboard gap filler designed to eliminate cold draughts and improve home energy efficiency.
There are already many products on the market designed to fill gaps in wooden floors – flexible wood fillers, and the like. A DIY method which also works relatively well is to mix sawdust with PVA glue and use that to fill the gaps. Unfortunately as wooden floors tend to flex and move with the weight of people walking over them and with changes in temperature and humidity, these gap fillers tend to crack and fall through the gap within a year or two.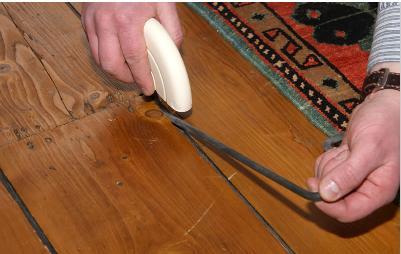 DraughtEx is a very flexible tubular material which is supplied on a roll. Using the provided applicator, this tube is squeezed into the gaps between the floorboards where it holds itself in place firmly easily able to cope with future floor movement.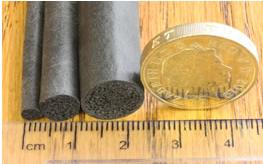 DraughtEx is available in three different diameters to cope with different gap widths – thin (< 3mm wide gaps), standard (2-7mm gaps), and thick (6-11mm gaps). The air pockets manufactured into the DraughtEx product make it possible to compress it to just 10% of its original profile.
Pictured above are some images of a typical wooden floor before (left) and after (right) installation of DraughtEx. The colour of DraughtEx has been chosen to mimic the natural colour of the shadows cast in the gaps between floorboards.
With the gaps between the floorboards filled with this insulatory material, heating savings of up to £20 per room per year can be attained.
More Information and Buy DraughtEx
For more information about DraughtEx and for installation instructions etc, click here to visit the official DraughtEx website.
To make a best priced purchase of DraughtEx click here: buy Floorboard Gap Fill.