A large proportion of the heat output by a central heating radiator goes into heating the wall on which the radiator is mounted. In the case of internal walls this is not a great problem since the heat in the wall will be slowly released back into the room, but where radiators are mounted on a party wall between your property and that of your neighbour, and particularly in the case of external walls, a lot of the heat put into the wall will be lost forever.
There are now a good selection of products designed to get the heat from a radiator to where it is required using a mirrored surface between the wall and the back of the radiator to reflect heat into the room where it belongs.
Magnetic Radiator Insulation Foil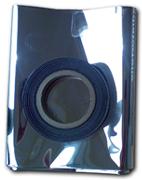 Pictured above is magnetic radiator insulation foil. This foil fits hidden from view behind the radiator reflecting warmth into the room and away from the wall. One pack contains five 0.5 metre lengths of the foil together with self-adhesive magnetic tape. Since the foil attaches to the radiator magnetically, it can be detached and re-attached easily when you would like to clean behind the radiator.
Click here for more information and to buy Magnetic Radiator Reflector Foil for around £15 per pack.
HeatKeeper Radiator Insulation Panel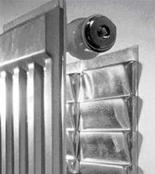 Pictured above is a HeatKeeper radiator panel fitted behind a radiator. While these are a bit more expensive than the foil options available, they offer proven savings of 20% on heating bills. This improvement over the more common flat foil options is due to their deflectors which slow down the rise of the hot air (so you enjoy it before it heads up to the ceiling!).
These panels are simple to fit with the provided double-sided sticky tape and are easy to cut to size. They are available in packets of ten or twenty 580mm high x 450mm wide x 8mm deep panels which is sufficient for 4-5 or 8-10 typical radiators respectively.
Click here for more information and to buy HeatKeeper radiator panels for around £37 for a pack of 10 or £51 for a pack of 20.
Radflek Radiator Reflectors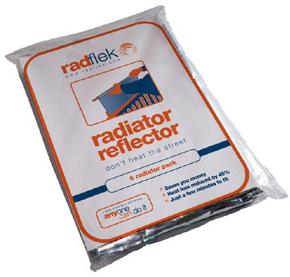 The Radflek radiator reflector is a very simple product to install. Sold in packs of three, five, or ten 120 x 60cm sheets, the reflector just needs to be trimmed to size, and hung free on wall brackets hidden behind the radiator. Each sheet is sufficient for two small radiators or one large radiator.
Click here for more information and to buy Radflek radiator reflectors for around £13 for a pack of three, £20 for a pack of five, or £35 for a pack of ten.
Radiator Booster
For a more active approach to increasing radiator efficiency, consider the Radiator Booster – a device which sits on top of the radiator and uses a pair of fans to drive warm air up and around the room.