The Quick Cup is a new energy efficient kettle from Tefal. Unlike a standard kettle, the Tefal Quick Cup acts as a water dispenser providing either (just below) boiling hot or cool filtered water at the touch of a button.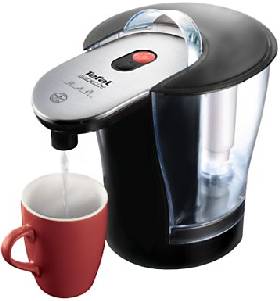 Tefal Quick Cup
The Tefal Quick Cup saves energy by only heating the water you need. Unlike other green Eco-Kettles (click here for more details), this water dispenser heats water nearly instantly – just 3 seconds for a standard sized mug full (220 ml). Water is drawn up from the 1.5 litre tank through an integrated Claris water filter cartridge and passed through a 2.8kW rated heating element.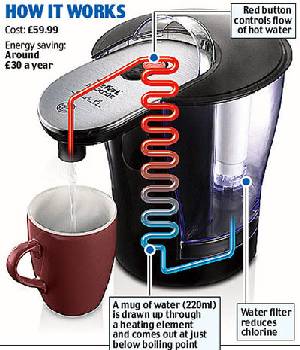 Tefal claim this kettle saves up to 65% of the energy used by a standard kettle, and therefore reduces associated carbon emissions by a similar amount. For a typical kettle user, that equates to a financial saving of around £30 per year – sufficient for this kettle to pay for itself in just two years.
The three seconds it takes to heat water compares to almost 3 minutes on average for a typical kettle.
The hot water dispensed by the Quick Cup can be used for tea, coffee, herbal drinks, instant noodles, packet soup etc.
If the Quick Cup is to be used to provide filtered cold water, Tefal recommend that the removable water-filled tank should be stored in the fridge.
Buy a Tefal Quick Cup
The Tefal Quick Cup is available for sale in the UK for £59.99.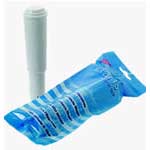 Replacement claris filter cartridges can be purchased for around £5.00 each from a wide range of suppliers. The filter removes up to 75% of water hardness preventing limescale, as well as removing chlorine, lead, copper, and aluminium (if present).
Find out more about Tefal Quick Cup
The official Tefal Quick Cup website is here.