While LED bulb manufacturers are still struggling to make low energy bulbs which produce as much light as their incandescent and halogen equivalents, they have at least managed to make something completely original and fun – mains powered 16 colour change infrared remote controlled GU10 LED spotlight bulbs.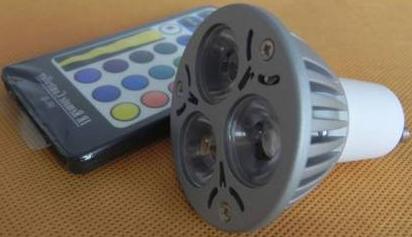 From as little as around £3.50 you can now (Jan 2013) buy a 3 Watt colour changing LED spotlight bulb with a battery powered (CR2025) infrared remote control including delivery to the UK!
These bulbs contain three LEDs – one red, one blue, one green. Using the remote control you can turn those individual coloured LEDs on and off and also adjust their brightness to give 16 different colour output options.

In addition these bulbs offer flash, strobe, fade, and smooth dimming settings for different lighting effects making them perfect for use as nightlights in children's bedrooms, for parties, and much more. Multiple bulbs can be controlled by one remote control.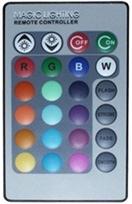 The 3 Watt versions of these bulbs typically offer 260 to 360 lumens of light which is equivalent to around a 35W halogen spotlight, but with a 50,000 hour predicted life (50 times longer than a typical halogen). These bulbs are commonly also offered in 4 and 5 Watt versions, and 10 Watt bulbs can also be found.
As well as being offered with a GU10 fitting, similar bulbs are available with common MR16, E14, E27, and B22 (bayonet) fittings and in a range of different shapes – candle, bulb, spotlight, etc. For the garden, colour changing LED floodlights are also available terminated with a standard UK mains plug.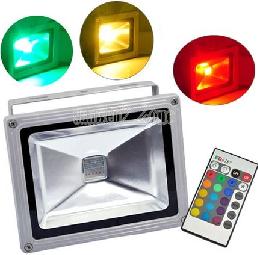 Buy Remote Controlled Colour Changing LED Bulbs
Click here to choose from a huge selection of Colour Changing Remote Control LED Bulbs.