It has long been known that powering 12V LED spotlight bulbs directly from a 12V battery is a risky business. With most bulbs quickly destroyed when powered by >13 Volts, and most 12 Volt lead acid batteries swinging from 10V (flat) to 14+V (being charged), a 12 Volt regulator (such as this 12V regulator) is essential to ensure that a constant 12.0 Volts is supplied to the bulbs. For load currents of less than 1 Amp, these work very well and are inexpensive.
The latest 12V flat screen LCD/TFT televisions and laptop computers have the same problem – they need a stable 12 Volt supply, but with typical power ratings of 25 to 70 Watts (2-6 Amps). Similarly, if more than 10 Watts of LED spotlights need to be powered, a more powerful voltage regulator is needed. Fortunately a product is now available which will supply a stable 12.0 Volt output of up to 70 Watts from an input voltage from 10 to 28 Volts – the Amperor ADP-90DC-12.
Amperor ADP-90DC-12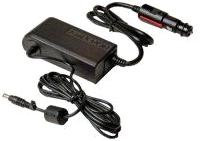 Pictured above is the Amperor ADP-90DC-12 specifically designed to protect LCD TVs from being permanently damaged (or automatically switching off) due to over voltage when being powered by an unregulated 12 Volt power supply or battery. It is designed for use primarily in caravans, boats, motorhomes, cars, and trucks.
The voltage stabiliser is fitted with a standard cigar lighter input plug on a 600mm lead, and the output is a standard round jack plug (5.5mm OD 2.1mm ID) which will fit the 12V power sockets on most televisions. The stabiliser/regulator weighs in at just 383g and is just 115mm x 50mm x 32mm in size.
Full details of this product can be viewed in this downloadable PDF: LCD TV Voltage Stabiliser.

Note that for televisions with non-standard input power sockets a range of adapters are available to convert the 5.5mm x 2.1mm standard jack to 5.5mm x 2.5mm DC jack, 6.0mm x 1.4mm DC jack, or 4-pin. These adapters cost around £5.
Buy an Amperor Voltage Stabiliser

Click here to purchase the Amperor Voltage Stabiliser now from Amperor Direct for around £30.