If the OWL CM119 Wireless Energy Monitor is a bit expensive and feature rich for your requirements, then the new OWL Micro (CM130) could be the product for you.
OWL Micro
The OWL Micro is back-to-basics wireless energy monitor which only displays four values: current power usage, cost per hour at current power usage, total power used, and total cost of power used. Setting up the OWL Micro is very simple with just the average cost per kWh (unit) of electricity to be entered by the user (after checking their electricity bills).
NEW Click here to view our new comprehensive guide to Wireless Electricity Monitors with the latest models and up to date pricing.
Click here to download the OWL Micro User Manual (PDF) for full installation and user instructions. A printed copy of this document is included with the OWL Micro.
Buy OWL Micro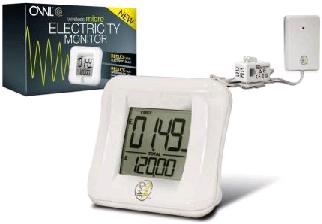 OWL Micro (including display unit, electricity sensor, and wireless transmitter) is available for around £25-30.