For all but the simplest solar water heating system, a pump controller is a vital component. A solar water heating pump controller constantly measures the temperature of the solar panel (aka solar collector), and the stored hot water tank (aka hot water cylinder) to decide whether the pump should be on. If the panel is hotter than the tank then the cooler water is pumped through the panel to be heated up. If the hot water tank is hotter than the panel, then the pump is turned off so that the stored hot water is not cooled in the panel.
If a simple reliable and economical solar water pump controller is required then we of course recommend our own Solar Water Pump Controller still available for just £25.99. However, if a more complex controller is required with a graphical display, automatic frost protection, automatic backup heating from a conventional boiler, and more, then the Drayton SHR52120 is an excellent unit to consider.
Drayton SHR 521 20 Solar Thermal Controller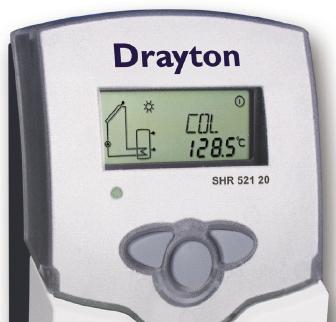 The SHR 521 20 is a differential temperature controller for use with solar thermal systems, and is supplied with high quality PT1000 temperature sensors. It is very simple to install (though a qualified electrician is required) and intuitive to set up and operate. It is designed to control one or two mains powered circulation pumps rated at up to 4 Amps, and its own power consumption is below 2 Watts (therefore costing just £2 per year to run).
For an overview of the features of this controller, click here to download a two page guide to the Drayton SHR 52120. For all the information you'll need on installation, mainenance, set up, and running the controller, click here to download the detailed Drayton SHR 52120 User Manual (2MB 20 page PDF).
Buy a Drayton SHR 52120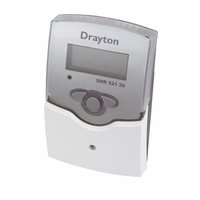 The Drayton SHR 52120 is available best priced in the UK from Screwfix Direct. Click here to buy Drayton SHR52120 now for around £160 including VAT.