In our article Solar Charge Controller we introduced some of the devices used to control (or regulate) the amount of charge going from PV solar panel(s) to the battery bank. Batteries can easily be damaged by overcharging or excessively discharging them, so a good quality solar charge controller is a vital component of any reliable solar powered system.
Solar Charge Controllers on eBay
Every day on eBay a wide range of solar charge controllers are available for sale – for example, way back when we first published this article (July 2008) we found 75 items matching the search Solar Controller -Panel on eBay UK covering a price range of £0.99 to £73.
Now as we update the article (October 2013) there are a whopping 1,133 items matching that same search listed for sale on eBay here in the UK. The range of solar controllers is greatly improved with the cheaper 5A, 10A, and 20A rated charge controllers for 12V battery systems now offering more features and often LCD displays; and there are also some of the the much more expensive MPPT (maximum power point tracking) for high current off-grid systems with high voltage battery banks.
Below we will look through some of the options currently available.
Basic Solar Charge Controller
Pictured below is the result of a recent eBay auction. Selling for just £1.70* (including postage from China) is this 15 Amp rated solar charge controller for a 12V battery. This controller offers efficientPWM charging, uses very little power itself (2mA) so it is not a drain on the battery, and it even has a light detector and timer to control the load output to save power.
* The Buy it Now price for this item is currently under £10 including postage from China, but with patient bidding on auctions you can often get these items for much less.

For anyone with a small solar panel (less than 100 Watts) and a battery in a non-critical application such as solar shed or garage lighting, pretty much any cheap controller (under £20) you find will do the job adequately. It is usually best to ensure that the quoted maximum current rating of the (cheap) controller is double that expected from the solar panel(s) in case the specs have been exaggerated by the seller or manufacturer. Also, make sure to choose a controller which offers at least PWM charging of your battery. You may also find some very low-end MPPT controllers which should be even more efficient.
This search is a good one for finding solar charge controllers suitable for <100W solar systems: solar controller PWM 20A.
Medium Range Solar Charge Controllers
Moving up from the most basic solar charge controllers, the medium range units offer more advanced features and/or are better manufactured. These controllers tend to be designed to control charging with higher currents for larger solar arrays, to offer MPPT charging for maximum efficiency, and to present the state of the system on a display.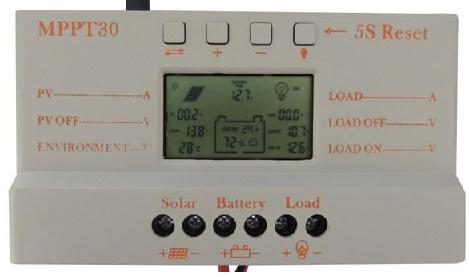 Pictured above is one such example – a 30 Amp rated solar charge controller with MPPT charging and a display showing the magnitude of the charging or discharging current, the percentage of battery capacity (i.e. battery state of charge), the maximum desired battery voltage, and the battery voltage below which the automatic low voltage disconnect will cut in (and subsequently cut out) to protect the battery from being depleted too far by any connected loads. As well as many other features, it even has a 5V 500mA USB output for phone charging.
The pictured controller sold for £25 from Hong Kong including delivery. Many of this controller are available today at prices from £20-35.
We have found the following search to be particularly good for finding this type of low price but feature rich controller: solar mppt lcd.
Top Quality Solar Charge Controllers
There is a huge jump and price and quality once you get away from the Chinese cheap and cheerful solar charge controllers. When you have whole house off grid power set-up with a large and expensivebattery bank, it is essential to install a good quality reliable and long lasting solar charge controller.
For such an important and expensive purchase, we would usually recommend searching for the specific manufacturer or product you are interested in online, find out all you can, and then see if you can find the same product for less money on ebay. However if you are not sure exactly what is out there ebay can be used for initial research too.
Click here to do the following search: solar controller -valve -water -panel -kit, and then sort the resultsPrice + P&P: highest first.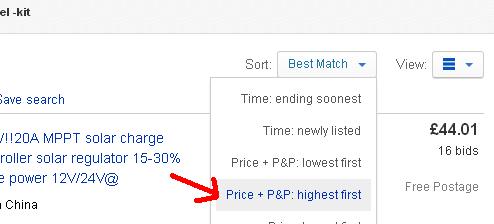 You should now have a good list of high quality solar charge controllers from a range of manufacturers to look into. Pictured below is one such example – the Outback Power Systems FLEXmax 80.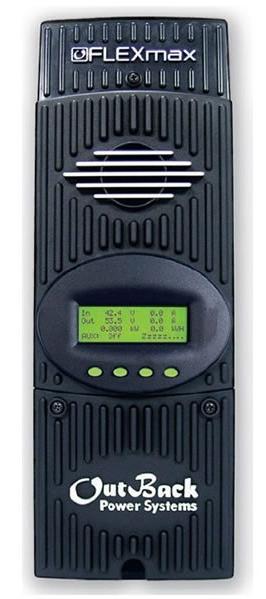 The FLEXmax 80 is an MPPT solar charge controller which can operate at up to 80 Amps continuously even when the ambient temperature is 40 degrees Celcius. It offers 128 days of datalogging, automatic battery voltage detection (12V-60V), huge amounts of user programmability, and much much more. Hence the price – around £400 or US$600.
Comments
Looking at your article on solar controllers the 30a MPPT model you feature with the lcd display is only a PWM controller. Whether it is a good PWM or not I don't know but once companies claim features for their products that they don't have they lose my interest.

There are numerous youtube videos exposing this particular controller as a fake. More honest sellers do make clear this is only a PWM controller. My own experience is that I purchased probably the cheapest available 30A true MPPT controller -the Tracer model (old style)- and that cost me around £130 at the time. It works pretty well taking output from a 325W panel at 60W (so 5A) and converting it to a max so far of 14.5v at 20A.

The controller highlighted in your editorial would not be able to handle such a panel voltage, as it has no way of converting those excess volts to amps. It therefore has no way of efficiently making use of the maximum power point even if it could track it. If it were connected to four 80W panels so 320W in total (wired in parallel so the max panel voltage was only 22v) the most amps this controller could output would be 15A at 14.5v, the same as any other PWM controller.

I suspect that my Tracer MPPT controller is far from the best otherwise the likes of Outback and Morningstar wouldn't be able to charge what they do, I have no way of knowing if it always finds the best MPPT, but it can convert excess volts into amps, a prerequisite for all MPPT controllers.

Mike
May 2015

I bought a 30 amp MPPT controller on ebay recently, £79.89 from solar-energy2008 and took it to France for the week with 2 x 100 watt solar panels. We have a caravan and 12 old 12 volt car batteries hooked up for lighting – a lot of LED strips around the place – charging phones, laptops, power tools and the like. (We're working on an old house there) I first connected a 'Smartgauge' monitor to the battery bank as per the instructions, then connected the two solar panels to the MPPT controller and then on to the batteries. There were a couple of days when the mist and cloud did not clear fully until late on and so very little power was generated.

One morning the gauge showed only 30% left in the batteries.

And then the sun came out. Fully.

In just 6 hours the gauge was showing 60%, then the next day – another sunny day – it pushed in another 30%. I have never been so impressed. It is so much better than the normal charge controllers I have been using for the past 4 or 5 years.

Fred
October 23rd 2011