For most people, the cheapest place to buy solar panels is eBay. Therefore this article describes some of the different types of PV solar panels available at this time (December 2012) in the United Kingdom. Prices per Watt of power are provided for comparison.
February 2014 Update
When we updated this article back in April 2009, large solar panels (50+ Watts) were best priced at just under £4 per Watt, with panels in the 10-50 Watt range costing upwards of £5-8 per Watt. By the end of 2012, large solar panels were available for under £1 per Watt even including delivery!
* See our blog post Are Prices of Solar Panels Going to Stop Falling or Even Rise?.
Now (February 2014) prices are fairly stable at the same level they have been since the start of 2013 at around or just under &pounnd;1 per Watt.
Historically you would expect to pay least for amorphous panels, more for polycrystalline, and the most for the then rarer monocrystalline solar panels. Now the majority of solar panels available on eBay are of the monocrystalline variety (more power from a smaller panel size) with aluminium frames and almost always made in China but often sold from mainland Europe – Germany in particular as they have 5-10 years more solar photovoltaic experience than the UK as they were first to offer a subsidised Feed in Tariff to increase solar take up.
Solar Panels Available from eBay UK
Small Solar Panels (<20W)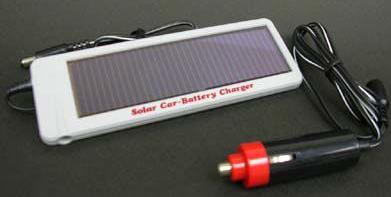 12V trickle charger for car / caravan battery (pictured above). 1.5 Watts of output. Includes cables, crocodile clips, and car cigarette lighter adapter. £10-15 plus £4 postage. (cost per Watt of £7+).
Click here to search eBay UK now for car solar charger.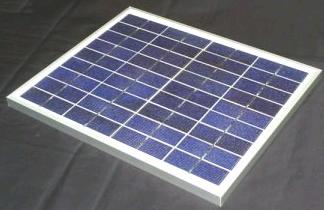 12V 10 Watt polycrystalline solar panel. Priced from £20-40 for aluminium framed units plus around £5-10 for delivery, but often with free delivery.
Click here to search eBay UK now for 10 Watt solar panel.
Other popular sizes of small solar panels are 5W and 15W, with 5 Watt panels priced at £10 to £40, and 15 Watt panels at around £50 (often considerably more expensive than the more commonly available 20W and 30W panels!
Medium and Large Solar Panels and Kits
With solar panels of 20 Watts and above peak power output, a solar charge controller is almost always required in order to protect the battery bank from overcharging. (Visit our article 12V Deep Cycle Batteries for Solar for more information on sourcing suitable batteries for solar systems.)
In February 2014, the best prices we could find were as follows:
20W monocrystalline solar panel £23.99 delivered £1.20/Watt.
30W monocrystalline solar panel £32 delivered £1.07/Watt.
50W monocrystalline solar panel £45.99 delivered £92p/Watt.
80W monocrystalline solar panel £65.99 delivered 82p/Watt.
100W monocrystalline solar panel £99.99 delivered £1/Watt.
120W monocrystalline solar panel £140.99 delivered £1.17/Watt
Note above how the price per Watt of solar panels varies hugely depending on the specific size of solar panel. For example, at the time of writing, it was cheaper to buy a 100W and a 20W panel than to buy a 120W panel BUT back in December 2012, 120W solar panels were the best buy commonly available for around 75p per Watt compared to £1.17 per Watt in February 2014. Therefore, if you need a 100W panel for example, you should also check the prices for 80W and 120W, and even the price of two 50W panels to find the best value.
Please email neil@reuk.co.uk if you find any regular (not one-off) offers which beat these prices.