In our article Solar Powered Wireless CCTV we had a quick look at how a simple DIY solar powered wireless camera system could be set up. For those interested in taking a more professional approach, a new product has come onto the market which will be of great interest – Solcam.
Solcam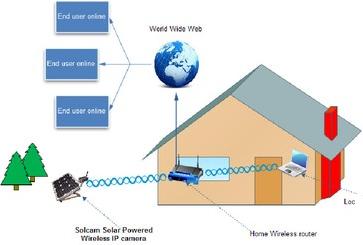 Solcam is a photovoltaic solar powered wireless IP camera – a camera which connects wirelessly to your Wi-Fi broadband router enabling you to watch the video it transmits live from anywhere in the world via your web browser either on your local network or via the internet.
Powering Solcam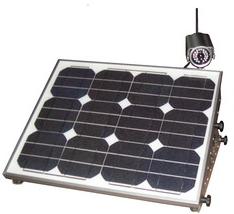 Solcam includes a 30 Watt PV solar panel and 48Wh lithium-ion battery pack. When fully charged, the battery pack will power the camera for 24 hours continuously. Just a few hours of sunshine per day are needed to keep the battery fully topped up with charge.
A plug in 12VDC mains transformer is supplied to recharge the battery if there are a succession of overcast days. The solar panel is mounted onto an adjustable aluminium A-frame so that you can get the solar panel mounting angle just right.
The Camera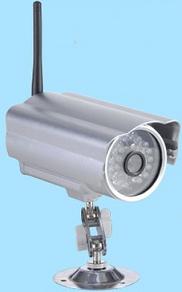 The camera integrated into Solcam is a weatherproof digital video security camera with full networkconnectivity. Its 1/4 inch CMOS CCD sensor gives full colour images to 300K resolution, and it is fitted with 24 infrared LEDs giving night vision to a range of up to 20 metres.
The camera can be turned on and off using a supplied remote control key fob. After connecting to the camera from anywhere in the world, it is possible to take still image snapshots, receive alarms when motion is detected, and view live video.
More Information
Solcam was designed and manufactured by the same company which make the Solar Powered Wireless Range Extender we have looked at previously at REUK.
You can download and view the Solcam Sales Brochure (PDF) here.
REUK Exclusive Special Offer – 20% OFF
We are able to exclusively offer a limited number of Solcams for a limited time only at 20% off the official price of £499.99. If you would like to purchase a Solcam for just £399.99 including UK P&P – a saving of £100, then email neil@reuk.co.uk ASAP.