The Steca PR 0505 is a solar charge controller (aka solar charge regulator) for small 12V solar home systems of up to 60 Watts power (5 Amps) with a maximum load of 75 Watts. Made in Germany by Steca, this product is available in the United Kingdom for around £25.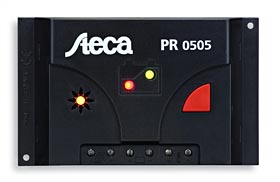 Steca PR 0505 Solar Charge Controller
The first impression of the Steca PR 0505 Solar Charge Controller is the quality of the product. Unlike most competitors' equivalent products in this price range, this unit is very well made and looks like it will last many years. Popping the front cover off the unit and looking inside it can be seen that the manufacturing quality is not just skin deep.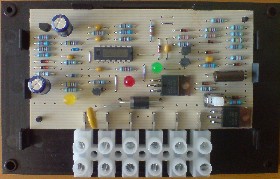 Though you would not typically look inside a solar charge controller, it is reassuring to know that this is a device which can be repaired by anyone with basic soldering skills rather than being thrown away if a component fails.
Installing the Steca PR 0505 Solar Charge Controller
Setting up and using the Steca PR 0505 solar charge controller is very simple. In addition to illustrated connection diagrams on the cut-out-and-keep user manual printed on the back of the box, the positive and negative input and output points for the solar panel, battery, and load connections are also labelled on the front of the charge controller unit. Connecting wires are simply inserted into the labelled terminal strip holes, and secured using a small (approx 3mm) flat-head screwdriver (not supplied).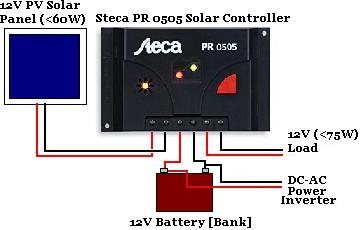 With everything correctly wired up, the Steca PR 0505 can be fixed to a nearby wall or surface via the two 4mm fixing holes.
Using the Steca PR 0505
The Steca PR 0505 arrives ready to use with no set-up / programming required. 3 LEDs are used to display the system status. There is a battery charging LED (yellow) which remains lit while the solar panel is charging the batteries. The red and green LEDs are used to indicate battery charge status: green LED on its own means the battery is fully charged (13.7V), red LED on its own means the battery is empty (approx. 11V or lower), and both on at the same time means the battery is between 11 and 13.7 Volts.
There is also a master switch for turning the power to the load on or off. This is particularly useful setting up or adjusting the load device – for example when building an LED lighting circuit, or to save power with a device or circuit which uses electricity when switched off.
The Steca PR 0505 protects against reverse currents at night, so there is no need to have an additional blocking diode in the system.
System Tracking with Steca PR 0505
In terms of the information displayed, this is a very basic solar charge controller. Steca manufacture a range of solar charge controllers with fitted LCD displays to show exact battery charge status and other useful information, but these are far more expensive and designed for use with much larger more powerful solar systems which need more monitoring.
A solar control panel can be constructed around the Steca PR 0505 with a low resistance Shunt Resistor connected into the live solar panel output, and the live load output to enable the current flowing in and out of the system to be measured accurately using a digital multimeter.
(If 0.01 Ohm resistors are used then a measured 50mV voltage drop across the resistor will correspond to a 5 Amp current flowing through the circuit. At the 5 Amp rated current of this device, just 250mW would be lost in the resistor – just 0.4% of the total power.)
Steca PR 0505 Features
As with the SunGuard 4.5A solar charge controller, the Steca PR 0505 uses Pulse Width Modulation (PWM) series battery charging which is 30% more efficient than cheaper basic 'on-off' regulators.
The Steca PR 0505 offers much more than its equivalent competitor products with a full range of features and electronic protections typically only found on far more expensive solar charge controllers for larger systems. Features include an automatic electronic fuse, boost charging (14.4V), temperature compensation, and current compensated deep discharge protection (to protect the batteries from being deeply drained by the load).
Electronic protections include both high and low voltage disconnects, reverse polarity protection of the solar module(s), battery, and load, short circuit protection of the solar modules and load, and even lightning protection.
Overall Conclusions
For the money, the Steca PR 0505 is hard to beat. Packed with features and electronic protections it is very well designed and manufactured. While it is possible to buy 5 Amp rated solar charge controllers for as little as £5-10, over the lifetime of the product, the Steca PR 0505 is much better value for money. The efficient PWM battery charging means more solar power can be harvested, and the system battery (or battery bank) will be better protected. The Steca PR 0505 is very simple to use and can be installed in just a few minutes by anybody.
This article was first published back in May 2007. At the time of this most recent update (January 2014) the Steca PR 0505 is still being manufactured. The User Manual and data sheets for both the Steca PR0303 and PR0505 can be downloaded here: Steca 0505 User Manual and Data Sheet from the Steca website.
Purchasing a Steca Solar Regulator
The Steca PR 0505 is not as easy to find in the UK as it used to be. Click here for a wide range of Steca solar charge controllers. Although the PR 0505 is usually not to be found, in our experience Steca controllers have all been excellent and their products cover all sizes of solar system.
The Steca PR 0505 used to be available in the United Kingdom from the following official Steca dealers:
www.dulas.org.uk, www.marlec.co.uk, and www.windandsun.co.uk.
For cheaper alternative solar charge controllers click here: Solar Charge Controllers on eBay.