Yorkshire-based Lunar Energy Limited are working with Rotech, an Aberdeen-based research and development company on tidal turbines to exploit the vast energy carried by ocean tidal streams. The result of this work is The Rotech Tidal Turbine (RTT).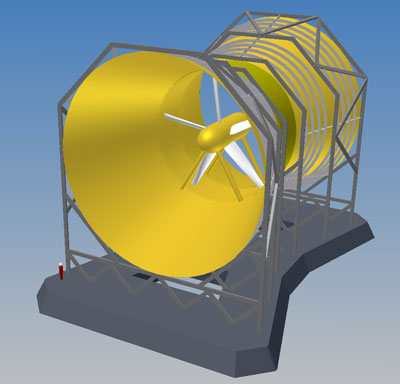 This tidal turbine has been designed to be as simple and robust as possible. This keep up front costs down and also reduces the need for expensive maintenance. The turbine unit can be fixed to the seabed and the rotor blades are designed to work in either tide direction meaning there is no need to rotate the whole unit, or the pitch of the blades when the tide turns.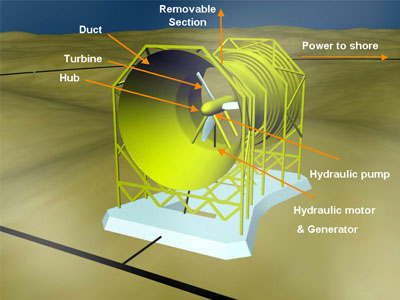 A (venturi shaped) duct is used to guide and accelerate the tidal stream toward the rotor. By using a duct, more energy can be extracted from the same amount of water with smaller diamter rotor blades thereby keeping costs of manufacture and maintenance down. Furthermore, even if the tidal flow is arriving at up to a 40 degree angle relative to the turbine rotor blades, the duct redirects the water so it arrives perpendicular to blades maximising generating efficiency.
As the turbine rotor turns it powers a hydraulic pump which forces hydraulic oil though a hydraulic motor generator. This is a sealed system which will cope well with the harsh conditions 30m+ below the surface of the sea.
1.5MW Rotech Tidal Turbine (RTT) Facts and Figures
The diameter of the duct intake is 21 metres.
The length of the whole unit is 27 metres.
The five-bladed turbine rotor is 16 metres in diameter.
The 1.5MW RTT will generate its 1.5MW rated power output in currents of 6 knots.
The whole unit weighs over 1200 tonnes.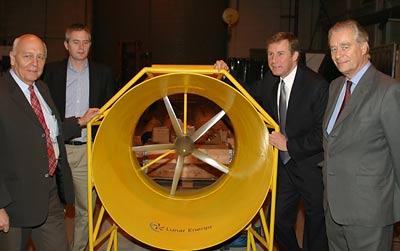 The Future for Rotech Tidal Turbine
Rotech have received multi-million pound funding from the DTI for the continued development of this project. Pictured above is a 1/20th scale model of the RTT being visited by Scotland's Deputy First Minister Nicol Stephen which was successfully tank tested in Glasgow.
Sea trials of a 1MW unit at The European Marine Energy Centre at Stromness, Orkney will be completed during 2007 with the production of the first commercial units pencilled in for 2008. By 2011 Lunar Energy and Rotech plan to have developed the first RTT commercial field.
Click here to view the official Lunar Rotech Tidal Turbine Brochure (PDF), or click here to visit the Lunar Energy website. The European Marine Energy Centre website can be viewed here.