The first tidal turbine generator in open-sea in the world was installed 1 mile off the coast of Lynmouth, Devon, in spring 2003 by Bristol-based Marine Current Turbines (MCT)
The location, between Foreland Ledge and Foreland Point on the North Devon coast was selected because of its 5+ knot spring tide tidal streams and easy accessibility. The 300kW 11m diameter turbine generator prototype (Seaflow) is fitted to a steel pile which was driven into the seabed.
The picture below shows all that is visible above the water line.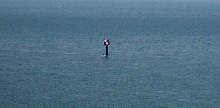 The Seaflow trial tidal turbine was connected to a dump load (rather than grid-connected) so as to keep costs down. In addition, the Seaflow prototype could only generate electricity from the tide in one direction.
The Lynmouth Seaflow has now run successfully for over three years operating completely unattended and controlled remotely and generating 25% more electricity than predicted.
Since the success of this first trial, Marine Current Turbines (MCT) have decided to proceed with a DTI part-funded (£4.27m grant out of £8.5m project) double turbine (two 500MW rotors attached to just one steel pile) system called SeaGen. This will be connected by an undersea cable with the land and connected to the National Grid. Enough elecricity will be generated to power 600 local homes.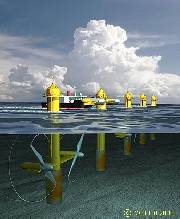 MCT eventually plan to install the SeaGen Array at the Lynmouth location. This will be made up of 10 SeaGen units giving a peak capacity of 10MW – enough to power Lynmouth and the surrounding area with electricity from the sea.
By 2010 MCT would like to have completed installation of 300MW of commercial SeaGen units around the world – focusing on NZ, Australia, SE Asia, and the UK.
More images of the SeaGen and more information about tidal turbines can be found at this link.