Vast amounts of water are wasted every year when people have to run the tap waiting for hot water. Even with modern combi boilers there is no such thing as instant hot water – as well as the time it takes to heat up water (while water is running through the tap), all the water in the pipework between the boiler and the tap must be pushed out before the hot water can come out. With water meters becoming common and people paying more attention to saving water, this huge waste of water cannot continue to be ignored.
Hydrosave
Hydrosave is an innovate product which diverts water away from the tap and into a water butt or other storage vessel until the water reaches the desired temperature. This stored water can then be used to water the garden, wash the car, or used to flush toilets and run washing machines.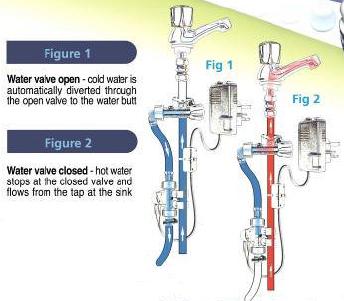 The Hydrosave system comprises a few key components – an isolating self-cutting tap, a controller, a temperature sensor which clips onto the hot water pipe, and a solenoid water valve.
When you want to use hot water, you simply press the red button on the controller (keeping the hot tap closed at this time). Water will start to flow through the hot water pipe and its temperature will be measured. Until its temperature reaches the user-programmed hot water level (20-40 degrees Celcius), it will be diverted to the water butt. When the water finally reaches the set temperature the controller will beep. At this time you open the hot tap and hot water will instantly flow out.
You can cancel the operation at any time by pressing the red button, and if no hot water is available, the valve will automatically shut after a user-programmed no hot water available time (of up to a maximum of 3 minutes).
The Hydrosave is available with a range of different specifications – of most interest are the HS200 (pictured above left) and HS300 (pictured above right). HS200 is powered by a standard 9 volt battery(PP3) , and so can be used in wet environments such as bathrooms, wetrooms, shower rooms, etc. HS300 is powered by mains electricity via a plug and so can be used in utility rooms, and kitchens etc where sockets are available.
More Information

Click here to view the detailed Hydrosave Installation Manual (PDF). If you are would like to find out more about hydrosave or make a purchase, click here to visit the informative Hydrosave Online website.