As we discussed in our article Survey Wind Speed at Turbine Site, it is vital to accurately measure wind speeds over a course of weeks and months at any site where a wind turbine is to be installed.

An anemometer is a device used to measure the wind speed at any instant. For that information to be of any real use, readings much be taken at regular fixed intervals and stored in order that average wind speeds, peak wind speeds, and so on can be calculated, and the suitability of a location for a wind turbine to be determined.
LeWL Wind Logger
The LeWL Wind Logger is a new wind speed logger from Scottish company Logic Energy. With its sealed (IP65) case, and ultra low power consumption, this logger is ideally suited for use in even the most remote locations to collect wind speed data for later analysis.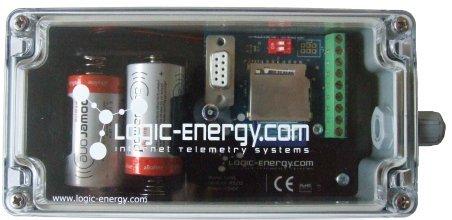 LeWL has two sensor inputs – one analogue and two digital channels. Therefore data from two anemometers can be collected at the same time as recording the wind direction. Where the logger is used at a site with an already installed wind turbine, one of the digital channels can be connected to an SO pulse output kWh export meter so that accurate power curves and performance checkups of the wind turbine can be undertaken.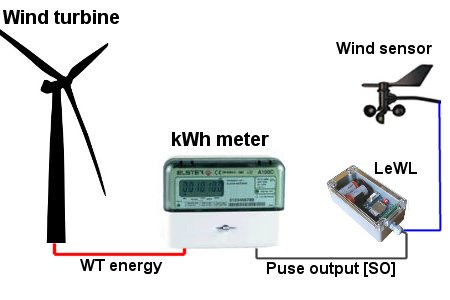 Readings can be taken automatically every 10 seconds, 1 minute, or 10 minutes (user-specified interval). Thanks to the internal real time clock, the stored data (saved in CSV ASCII format) is archived into monthly or daily files for ease of analysis later. Data is stored on a removable SD/MMC flash memory card – and just one 512 MB card would be sufficient to store 25 years of collected data logging at one minute intervals!
When downloaded to a computer, the collected data file can be opened straight into a spreadsheet for analysis as shown below:

If wind direction input is used a potentiometer type wind direction sensor is required. The LeWL has 16 wind direction bins – therefore it will store the highest wind direction incidence as N, NNW, NW, WNW, W… etc. All wind speed and direction readings are stored with a date and time stamp, and average and maximum wind speeds are also logged. Stored data can be analysed and processed with any spreadsheet application.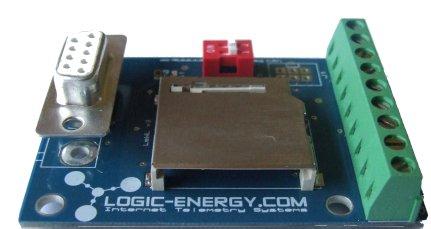 The LeWL has a serial port* to interface with a PC in order to download data or setup the logger. LeWL is fully compatible with any USB-RS232 converter enabling easy connection to any PC with a USB port.
*RS232 serial connection was chosen rather than USB to keep power consumption to a minimum and to enable the logger to work standalone for extended periods of time on one set of batteries.
Additional LeWL Technical Specifications
LeWL has an operating temperature range of -15 degrees C to +50 degrees C. One set of good quality alkaline 1.5V C size batteries will power the logger for up to 1 year (with a 1+ minute logging interval). Including batteries LeWL weighs in at 450g and is just 160 x 80 x 55mm in size. LeWL also features a built in PCB mounted temperature sensor.
For more information click here to view the LeWL installation and user guide from the Wind Logger website.
Buy an LeWL Wind Logger
The LeWL is available for £169+VAT direct from the manufacturers Logic Energy in Glasgow, Scotland. This price includes the LeWL stand alone wind logger with waterproof IP65 enclosure, a 3 cup anemometer, memory card, and two C-type batteries.