UK Biodiesel Processor Equipment
UK Biodiesel Processor Equipment
Find a supplier of Biodiesel equipment in the UK
biomass
|
transport
&nbsp
Printer Friendly Version

The manufacture of
Biodiesel
is still in its infancy in the UK, but there are already many suppliers of the equipment necessary to
Make Biodiesel
whether on domestic or industrial scales. This article focusses on suppliers of large scale
biodiesel processors
of the type suitable for use on farms or for anyone making far more biodiesel than they can use personally. If you are more interested in
Under £1,000 Domestic Biodiesel Processors
then please click here.
Future Fuels
are a UK manufacturer of
biodiesel processors
with outputs from 150-2000 litres per batch and up to 8000 litres in an 8 hour period.

Pictured above is smallest of the range - the
Future Fuels 150 Biodiesel Processor
. Processing up to 150 litres of biodiesel in a 2 hour run this processor has a stainless steel reaction tank and ATEX approved internal heaters. Priced at
£3399
this robust processor can process poor quality waste vegetable oil without difficulty and can easily cope with being put to full commercial use.
They also have an excellent overview guide titled
How to Make Biodiesel
Biodiesel Warehouse
- stock Biodiesel Processors, heaters, filtering systems and consumables to help you produce a clean green fuel.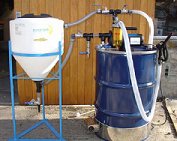 Biodiesel Warehouse sell a
Fuelmeister Bio Diesel Processor
: the
Fuelpod 40
. This is a closed system requiring no manual stirring and only 20 minutes of hands on time per run in order to generate its maximum output of around 40 litres of
biodiesel
. It can cope with heavily used cooking oil and comes with a 2kw oil heater, filtration and titration equipment, safety kit, and maintenance kit. This processor package is priced at
£1,170.00
. They also sell the
Fuelmeister 150
which makes 150-600 litres of biodiesel in 8 hours and is priced at just over £4,000.

Article Last Modified: 16:22, 6th Apr 2010
Comment on this Article
If you have any comments on this article, please email them to
neil@reuk.co.uk
.
---
Recommended Related Articles
People who read this article also enjoyed the following articles:
Under 1000GBP Biodiesel Processor Equipment
Find a supplier of a <£1,000 Biodiesel Processor in the UK
Article Last Modified: 16:23, 6th Apr 2010
biomass
|
transport
Heat Pump Tumble Dryer
Reduce power consumption with the latest heat pump tumble dryer technology
Article Last Modified: 20:16, 3rd Jan 2013
energy efficiency
|
general
|
shopping
Radiator Booster
Read our Radiator Booster (and new Radiator Booster Mk2) product review
Article Last Modified: 14:43, 16th Jan 2009
heating
|
energy efficiency
|
shopping
PVC Wind Turbine Blades
Learn how to make your own PVC wind turbine blades
Article Last Modified: 15:16, 19th Aug 2008
wind
Paper Log Briquette Maker
Find out how to turn old newspapers into briquettes for the fireplace or stove
Article Last Modified: 15:44, 16th Sep 2011
heating
|
recycling
|
biomass
|
carbon
Make a Still
Find out how to make your own still for distilling ethanol fuel
Article Last Modified: 13:49, 31st Jan 2012
biomass
|
transport
Simple Elapsed Time Timer
Make a very simple and cheap automatic time elapsed timer with optional alarm
Article Last Modified: 13:38, 22nd Dec 2012
electronics
|
education
Combined Heat and Power
Find out more about domestic (micro) combined heat and power systems
Article Last Modified: 10:27, 31st Mar 2009
heating
|
energy efficiency
|
biomass
|
general
Photos of PVC Wind Turbine Blades
Photographs of PVC wind turbine blades
Article Last Modified: 13:09, 22nd Dec 2006
wind
Solar Water Heating Pump Controller
Build an electronic pump controller for a solar water heating system
Article Last Modified: 11:33, 9th Jul 2007
water
|
solar
|
electronics