Pictured below is a modified version of our standard 12V Programmable PIR Timer with 3A Output.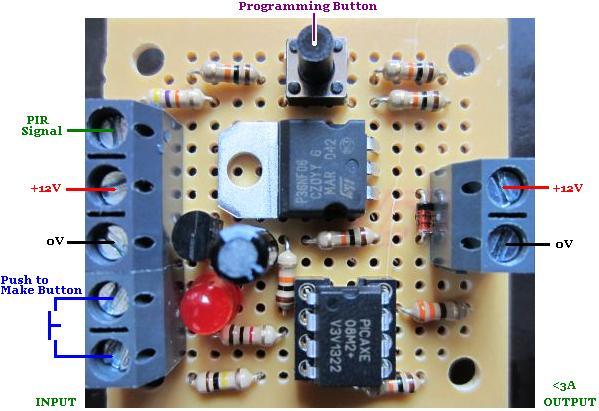 The standard version turns on an output after motion has been detected, and keeps the output on until a user programmed time has elapsed.
This new version retains all the same functionality as the original, but has the addition of a pair of screw in terminals into which the contacts for an external push to make button can be connected.
The software on the microcontroller has been modified for this version to provide manual override functionality. If the output is off (because no motion has been detected), pressing the override button (for more than half a second) turns on the output and the red LED flickers constantly.
To cancel the manual override, the override button is again pressed for more than half a second which turns off the output.
If the override button is pressed while the output is already on (from a recent motion detection event), then the output will be turn off.
If you need any type of PIR sensor linked timer/controller, email neil@reuk.co.uk with details of your exact requirements.