Until now the only practical alternative to inefficient incandescent lightbulbs has been CFL Bulbs which are four times more efficient and last about ten times as long as standard bulbs. However rapid development of 240V LED Spotlight technology has finally led to a 240V LED bulb which can be used directly in standard light fittings for general room lighting.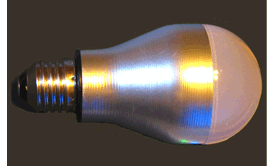 The Pharox LED Lamp was developed by Dutch company Lemnis Lighting. The first bulb (launched in 2007 and pictured above) was a 3.4 Watt model designed to be used as a direct replacement for a standard 40 Watt incandescent lightbulb (or a 10 Watt CFL bulb). The lifetime of this bulb is more than 50,000 hours – equivalent to 35 years if used for 4 hours per day.
At the time of revising this article (11th April 2009) this bulb has now evolved into a 4 Watt unit (still designed to replace a 40W incandescent bulb, and pictured below). An all new 6 Watt unit is due to be released in the autumn of 2009 designed to replace the commonest bulb used in the UK – the 60W incandescent.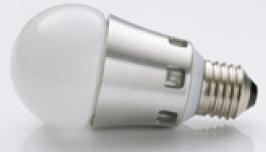 The Pharox LED bulb is supplied with an E27 (Edison screw) base, or a B27 (UK Bayonet) base. They are available in 240V and 120V (for North America) versions. The 4 Watt unit has a 230 lumens output with a colour temperature of 2,800 Kelvin (warm white). The bulb cannot be used with a dimmer switch (see our article on Dimmable Energy Saving Lightbulbs for alternatives).
The brochure for the Pharox LED bulb is available to download here: Pharox LED Bulb (PDF).
Pharox and the Environment
Compared to existing LED light technology the Pharox is also more environmentally friendly since it does not use phosphor. Containing just eight electronic chips its manufacture will be responsible for less toxic chemical and heavy metal emissions into the atmosphere than the manufacturing process of an equivalent CFL bulb – bulbs which also contain toxic mercury.
Using less than one-tenth the electricity of an incandescent the financial savings possible and the reduction in greenhouse gas emissions are dramatic – particularly because more than 10% of domestic electricity usage at present is for lighting and double that in commercial settings.
LED Bulb Costs
The Pharox is currently priced in Holland at €38.38 for one, or €29.95 each for four or more. While the initial cost of the bulb is far in excess of that of incandescent and CFL lightbulbs, over the full life cycle they will provide great savings both in electricity used and replacement costs. As technology moves on and similar LED bulbs start to be mass produced prices should fall enormously.
Update 4th Jan 2010 These bulbs are now available at just €18.94 plus shipping at cost from the Lemnis Lighting Webshop link which follows.
Buy Pharox LED Lightbulbs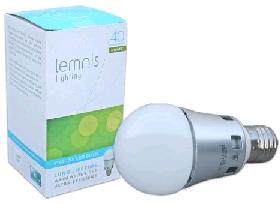 It is still very difficult to purchase Pharox LED bulbs here in the UK. We recommend you click here to visit the Lemnis Lighting Webshop to attempt to make your purchase. If anyone finds a UK supplier of these bulbs, please send an email to neil@reuk.co.uk so that we can update this article.
For those of you in the USA, we recommend you purchase your 120V Pharox bulbs here: buy Pharox LED bulbs now.