We have just purchased one of the voltage regulators pictured below for REUK product testing. This is a variable voltage regulator which will accept inputs of from 4-40V and output a user set voltage from 1.3-37V at up to 2 Amps. (Input voltage must be at least 1.5V higher than user set output voltage)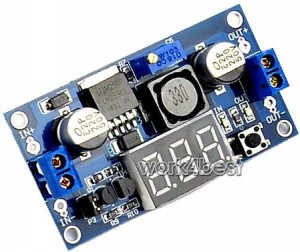 This device is just 3.5 x 6.0cm in size and includes a display to 0.1V resolution of the measured input and output voltages AND it costs a hard to believe £3.51 delivered to anywhere in the world from China.
We will add lots of information about this device together with some photos just as soon as we are done testing. For now, here is a link to get your hands on one or more of these LM2596 regulators to test for yourselves.