Pictured below is the connection diagram for a controller we have built to be used in a child's playhouse. The playhouse will have a solar charged battery which will be used to supply power to three LED spotlights with a light switch, a small fan to circulate air and prevent the playhouse getting damp or too hot, and a dual cigar lighter socket with USB sockets which will be used to charge battery powered gadgets.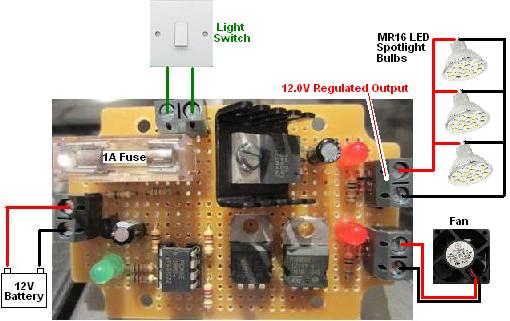 As the playhouse will be used by children, safeguards have been fitted to prevent the battery from becoming excessively depleted and permanently damaged.
In order to prevent the lights being left on and forgotten, when the light switch is turned on, a timer starts and if after one hour the light switch has not been turned off, the lights turn off automatically and will not turn back on until the light switch is toggled.
The output from the controller to the LED lighting is regulated to 12.0V so that excessive voltage (particularly when the batteries are being charged) does not damage the voltage sensitive bulbs.
To reduce power consumption, the fan which is used to ventilate the playhouse is turned on for just one hour every six hours automatically by the controller. The output to the fan is not regulated as the fan is rated for use with up to 18V, and if the battery voltage is high it is because there is or has been a lot of sunshine. Therefore the faster fan speed will prevent the playhouse getting too hot and stuffy.
In order to prevent the battery from running too low on charge, an automatic low voltage disconnect is incorporated. When the battery voltage falls below 11.9V, the outputs to the fan and lighting turn off, and only turn back on again when the measured battery voltage exceeds 12.4V.
The cigar lighter / USB socket is connected directly to the battery as the gadgets being charged by it will not draw much current for long if left connected since their batteries will get full and charging will stop automatically.
If you need a controller such as this, or with any of the features it has, email neil@reuk.co.uk with details of your exact requirements.