Our Mini Programmable 12V Low Voltage Disconnect (LVD) is designed to disconnect loads from batteries when the battery voltage falls below  a user set value, and then reconnect the loads when the battery voltage gets back above a second (higher) user set value.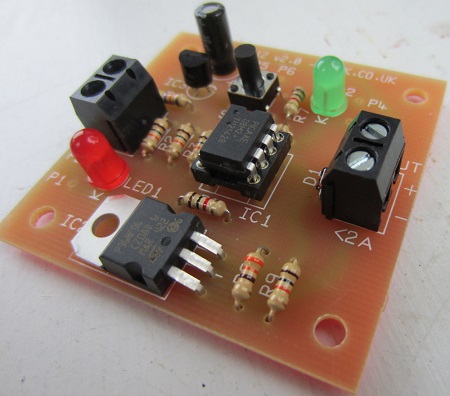 With a few modifications to the code on the microcontroller of this device it can also be reconfigured as a low voltage connect – a device which will (typically) be used to connect a charger to the battery when its voltage gets low, and then disconnect it when the battery voltage gets higher after charging.
Today we made such a low voltage connect for a customer with a semi off grid garden office, a PV solar charged battery bank, and a selection of lights, 5V chargers, and other low voltage DC loads to be powered. He has a mains powered 5A bench power supply which he wanted to automatically connect to the battery bank via a solid state relay (SSR) when the battery bank voltage fell due to a period of poor solar generation (English weather) or from using a lot of battery power.
With our low voltage connect controlling the SSR, the battery bank will never be able to get overly-depleted and battery power will always be available to power the garden office.
If you need any kind of low voltage disconnect, low voltage connect, or high voltage disconnect etc, please email neil@reuk.co.uk with details of your requirements.