In our articles Kill-a-Watt and Buy UK Power Meter we looked at products which can be used to accurately measure the electricity consumption of domestic plug-in appliances. By understanding where your electricity is going it is possible to save electricity and therefore save money.
Ecosavers Power Meter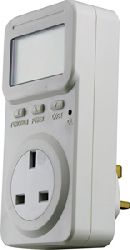 Pictured above is the EcoSavers plug-in mains power meter. This product is quite new to the market but is already selling well primarily due to its low price – typically around £12.
When compared with the market leading power meter of the last couple of years, the EcoSavers product certainly offers more features and functions at a better price.
EcoSavers Power Meter Features
The EcoSavers Power Meter will:
Record and display the cost of electricity used in £. The user must manually enter their average cost per kWh (unit) of electricity currently paid to their supplier.
Measure and display the voltage, current, frequency, power consumption, maximum power consumption, minimum power consumption , total electricity used, and total cost of the electricity used.
The power meter has a built in timer which measures how long has been in use – therefore it is possible to easily measure the cost of running your fridge for 24 hours for example. Resetting the timer (and all saved measurements and running totals) is easy – simply unplug the power meter, or press and hold the function button for 4 seconds. Setting the cost per kWh unit of electricity is also very simple, and once programmed in is saved in memory even when the unit is unplugged or reset.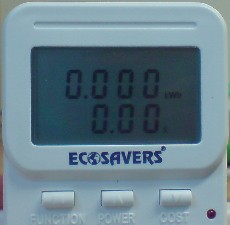 In order to display the information it generates, the EcoSavers power meter has a 2-line screen which is very easy to read.
The provided instructions are very brief and to the point, but contain all of the information necessary to set up and use the power meter.
The only thing which lets the EcoSavers power meter down is its build quality. It feels a bitplasticky and fragile whereas other power meters feel much more robust, however, for the price it offers great value.
EcoSavers Power Meter Specifications
Ratings: AC 100 V-240 V / 50 – 60HZ / maximum 13A
Range of the measuring power: 0.2W – 3120W
Range of the measuring voltage: 90V – 250V (tolerance: (1%+1))
Range of the measuring current: 0A – 13A (tolerance: (1.5%+25))
Range of the measuring frequency: 50 – 60Hz (tolerance 1)
Range of the displaying amount of electricity used: 0.001 – 9999kWh
Range of the unit price setting: £0.00 – £99.99 / kWh
Operating temperature: -10 to +40 °C
Buy an Eco Savers Plug-in Power Meter (UK)
The Ecosavers Power Meter is available for £11.95 plus £1.95 for postage from the REUK Shop. Click here to buy Ecosavers Power Meter now,.