In our article Freeloader Solar Charger we looked at the best selling solar charger designed to charge mobile phones, and handheld devices such as iPods and PDAs. Now there is a new improved Freeloader product available called Freeloader Pro – marketed as being the ultimate professional solar charger and designed to power power-hungry higher voltage devices such as DVD players, camcorders, and recharge the batteries for a wide range of digital and video cameras.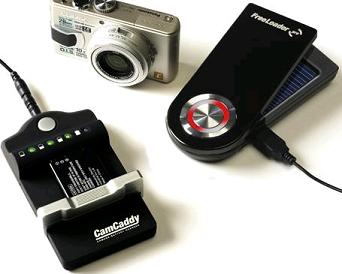 Freeloader Pro
As with the original Freeloader Solar Charger and similar products, an integrated (200mA) polycrystalline photovoltaic solar panel charges an internal (1600mAh) Li-ion battery. This battery can be charged from empty in 8 hours in full sunshine, or in 3 hours when charged with the supplied USB cable. Four LEDs indicate the battery charge status. The battery is then used to power devices or their recharge batteries or battery packs.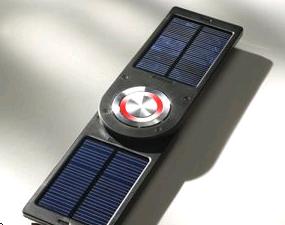 The Freeloader Pro has an rugged aluminium body and the following dimensions: 150 x 63 x 20mm, and weight: 174g.
CamCaddy
Freeloader Pro is sold with CamCaddy – described as a power cradle, but is basically a battery holder which can be connected to Freeloader Pro to enable camera battery packs (compact digital, SLR, or camcorder) to be charged. It can be used to recharge batteries ranging from 3.2V to 7.9V, and is a unique feature amongst competitor products.
The CamCaddy will charge batteries up to 67mm in depth, and is itself 130 x 71 x 30mm in size, and weighs just 68g.
Compatibility
The Freeloader Pro has been designed with compatibility with a vast range of devices in mind. These include the following (and more):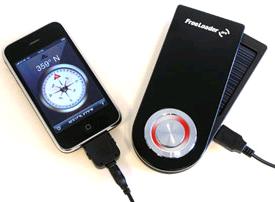 The full iPod, iPhone, and iTough range (including the iPhone 3g and the newly released iPhone 3gs)
All Nokia phones, and all current Samsung, LG, and Sony Ericsson phones.
Sony PSP, Nintendo DS Lite / DSi (via a 4mm tip which will also connect with most MP4 and DVD players, e-books, PDA's, and some digital cameras.)
The mini-USB adapter supplied will power current Motorola phones, Blackberrys, and other smart phones, GPS and SatNav systems, PDA's.
Freeloader Instruction Manual
Click here to download and view the full detailed Freeloader Pro Instruction Manual (PDF), or here for the Freeloader Pro Compatibility Guide (PDF).
Buy the Freeloader Pro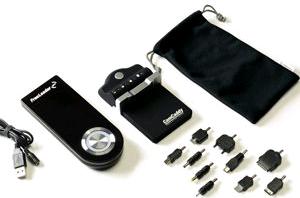 Freeloader Pro is available from the end of June 2009 from Ethical Superstore for £68.95 (with free UK delivery). Click here to find out more or to buy Freeloader Pro now.
Using the Freeloader Pro
The Freeloader Pro could not be easier to use. The included instruction book is comprehensive and easy to read, and the input, output, and output voltage selector switch are all clearly labelled on the device.
The most important thing is to remember to first charge the internal battery fully by connecting the device to a PC via the supplied USB cable. This conditions the battery for optimal operation.
The two solar panels are covered with a protective clear film which should must be removed before use. This is a little bit fiddly, but nothing a sharp fingernail cannot manage. Do not use anything which could scratch the solar panel.
The Freeloader Pro is not waterproof, and therefore should not be left outside to charge if there is any chance of rain. Although it will be slower to solar charge, it is better to leave the device on a sunny window ledge rather than outside (if you live in the UK at least!).
Depending on the device to be recharged, you will need to select either 5.5V (e.g. mobile phones and PDAs) or 9.5V (e.g. MP4 players and video cameras) output. You must make sure you check the output voltage setting before connecting anything up to it, as 9.5V could easily damage sensitive electronic equipment. (When using the CamCaddy the 9.5V output must be selected as CamCaddy has its own voltage regulator.)
The instruction manual draws attention to the fact that the internal battery has a lifetime of only 2 to 3 years. After this time it suggest you return the unit to the manufacturers to have the battery replaced. The information about how to do this is not currently on the website, but a call to the sales and support helpline (01684 774000) resulted in a price of £15.00 for this service. Removing and/or replacing the battery pack yourself will invalidate the product warranty, but as the (12 month) warranty will be long expired by the time you need to replace the battery pack, it may well be worth looking for an alternative 3.7V 1600mAh Lithium-ion battery at the time.
Note the that Freeloader Pro can be used with the excellent Freeloader Solar Charger to charge AA or AAA batteries. A mains charger and an in car charger is also available for charging up the Freeloader Pro when you are not near to a PC or sunshine.