There are now many
solar chargers
on the market which can be used to provide power on the move for mobile phones, iPods, PDAs, GPS units, and other electronic devices.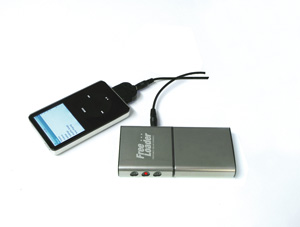 The
Freeloader
is the best selling
solar charger
in the UK, and also one of the cheapest commercially available units.
NEW
The new
Freeloader Pro
is now also available. Click here for more information on the
Freeloader Pro
.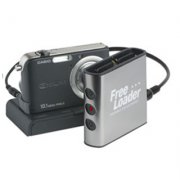 Freeloader Solar Charger
Pictured above, the Freeloader Solar Charger weighs in at just 185g and is just 12.3 x 6.2 x 1.7cm. A small crystalline PV solar panel is used to charge an onboard lithium ion battery. The Freeloader has a strong aluminium body.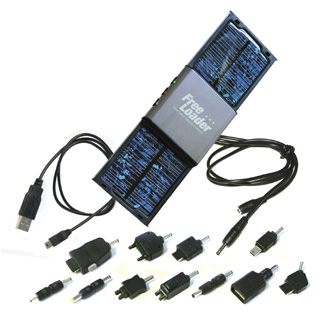 The power stored in the battery can be used to recharge a wide-range of hand held devices via one of the twelve supplied adapters. These include Motorola, Nokia, Samsung, and Sony Ericsson mobile phone, USB, mini-USB, and 4mm straight jack adapters. Other adapters for less common phones, Game Boys etc, are available for around £5 each.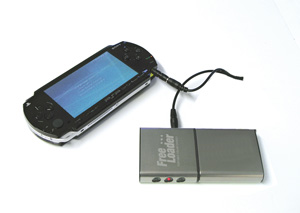 The lithium ion (Li-ion) battery fitted into the Freeloader will hold charge for up to three months. The average lifetime of the battery is two years with replacements available for just over £10.
In full sunlight, the 5.5V, 120 mA solar panel can fully charge the 3.7V, 1000 mAh battery in around 5-6 hours. Alternatively, the battery can be charged directly using the included USB cable (connected to a computer) in just three hours.
Freeloader User Manual
The Freeloader User Manual (PDF) can be downloaded here. It is also supplied in printed form with the Freeloader.
NEW

Freeloader Globetrotter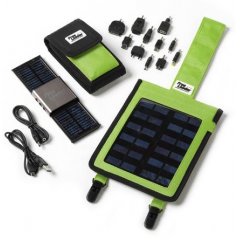 The Freeloader is now available in a Globetrotter pack (pictured above) which includes a 1.5 Watt crystalline PV solar panel called the Supercharger. The Supercharger is 210mm x 159mm x 6mm, weighs in at 200g, and will charge the batteries from flat in just 4 hours of direct sunshine. It's main advantage is that it is fully weather resistant and fitted with a couple of velcro straps so it can be fixed to a rucksack or bicycle panniers. In this way, the Freeloader can be charged throughout the day without having to get it out of your bag.
Buy a Freeloader Solar Charger
If you would like to buy a Freeloader Solar Charger for £24.95, click here.
Alternatively, click here to buy a Freeloader Globetrotter for £49.95.
NEW The Freeloader Solar Charger can now be used to charge two AA or AAA rechargeable batteries using the new Freeloader AA/AAA Battery Charger.
Alternatives to the Freeloader
If you require a larger battery capacity and more powerful solar panel consider instead the PowerMonkey Explorer (3.6V 2,200mAh battery, 5V 200mA solar panel) or the Solio Solar Charger (3.6V 1,600mAh battery, 6V 165mA solar panel) both of which are available in the UK for around £50.
Alternatively you can make your own solar battery charger very easily.