Most people with wireless internet have experienced problems with the range of their wireless router. Often it is not possible to connect to the internet reliably from all the rooms in a house, and rarely throughout the garden and/or in a garden office. The product pictured below offers a solar powered means to extend the range of your WiFi.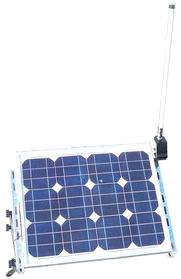 The solar powered wireless range extender is a unit which integrates a 30W photovoltaic solar panel with stand, a 48Wh (4Ah) lithium-ion battery, a 802.11 B/G/N universal wireless repeater, a 9 decibel 2.4Ghz antenna, and a 12VDC plug in mains transformer so that the battery can be charged up (in 6 hours) when the sun is not shining.
The battery pack will power the range extender for 24 hours continuous use on a single charge. Integrated electronics protect the battery from being overcharged, overdischarged, or overheated. A switch on the unit enables the range extender to be turned off when not in use to save power.
The complete system is fully weatherproof so it can be left outdoors, but it is also portable weighing in at just 6 Kg. It has been designed so that it works with every popular wireless router, requires no software to be installed on your PC, and requires no wireless networking expertise from the end user.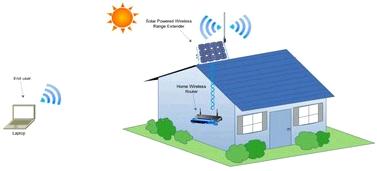 More Information
The solar powered wireless range extender is produced by SiFi Solar – wireless networking specialists based in Glasgow, Scotland.
The product's User Manual (PDF) can be downloaded here, as can the Sales Brochure.