The Sunny Boy range are the best selling grid tie solar power inverters in the Europe. Offering efficiencies in excess of 93%, and expected lifetimes of over 20 years, they offer the highest levels of reliability. All Sunny Boy Inverters have been tested and comply fully with the UK G83 grid connection regulations.
Sunny Boy SB-700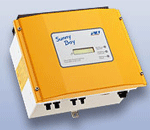 The Sunny Boy SB-700 is the smallest Sunny Boy solar inverter available (costing around £800 in the UK). The SB-700 accepts three different DC voltage inputs 250, 200, and 150 VDC (corresponding to 6, 8, and 10 PV solar modules respectively) with a maximum input current of 7 Amps. At 250 VDC, the SB-700 has a maximum AC power output of 700 Watts, at lower input voltages this falls.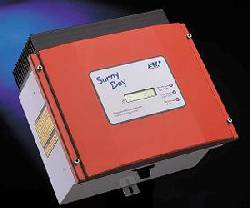 The SB-700 is built in an IP65 rated waterproof and dustproof stainless steel casing making it suitable for outdoor installation.
The SB-700 can be simply connected to any location of the house mains electricity supply (for example in the garage or attic) – it is not necessary to have it connected directly to the house electricity distribution point. Therefore the cost of installation is relatively cheap.
Sunny Boy SB-700 Downloads
A 52 page SB-700 Installation Guide (1.4MB PDF) can be downloaded from the SMA America website. This is a very easy to follow, clear, and well illustrated guide to the whole SB-700 installation process. The 83 page SB-700 User Guide (6MB PDF) can also be downloaded here and is a very thorough and comprehensive guide to using and maintaining the SB-700 Solar Inverter.
Sunny Boy Inverters
For more information about Sunny Boy Inverters view the one page Sunny Boy Selection Guide (PDF). Sunny Boy Inverters are manufactured by German company SMA.