Powered only by
PV solar panels
with rechargeable battery backup, The Zephyr is an ultra-light
solar powered aeroplane
designed to fly as high as 25 miles for weeks or months without landing.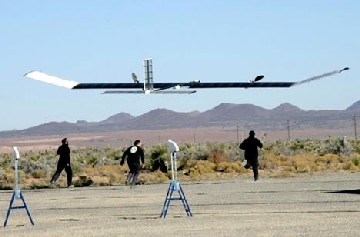 At such heights it will fly far above most weather and the commercial air-lanes in the sky. Therefore it will potentially revolutionise communications acting as a platform far cheaper than the satellites sent into orbit today. The Zephyr was built by QinetiQ, formerly part of the UK's MOD (Ministry of Defence).
Zephyr Technical Specifications
Zephyr is a High Altitude Long Endurance (HALE) Unmanned Aerial Vehicle (UAV) made from carbon-fibre. It has a wing span of 18 metres and weighs in at just 30 kg – so light, it can be launched by hand. Propulsion is provided by two electric motor driven propellers.
Power is from an array of ultra-thin amorphous silicon solar cells (United Solar Ovonic) which cover the upper surface of the wings. During the daytime any excess generated power is used to recharge lithium-sulphur batteries (from Sion Power) which power the motors during the night.
UPDATE 10th September 2007
The Zephyr solar-powered plane has set a new (unofficial) world record for the longest duration unmanned flight – 54 hours including two full nights. This smashed the official world record of under 31 hours set in 2001 by a USAF Global Hawk surveillance aircraft.

During this test flight over White Sands Missile Range in New Mexico, an altitude of 58,000 feet (18,000 metres) was achieved – similar to the cruising altitude of Concorde.
The technical director of the Zephyr project Chris Kelleher told BBC Newaa, "This aeroplane is going to go a lot higher and a lot further" and added "You ain't seen nothing yet."
UPDATE 16th July 2010
Ongoing trials of the Zephyr spy drone aircraft have seen it up in the air for a full week without landing: 168 hours of non-stop flight more than doubling it's previous record of 83 hours set in 2008, and it will remain in the air for another whole week before this trial finishes for a total of 14 days and nights non-stop flight.
This updated Zephyr is larger than its predecessors with a new wingspan of 22.5 metres. The wingtips, and tail have been redesigned to increase efficiency by improving aero performance. It still weighs in at only 50 kg, but now takes five rather than three people to launch it safely.
Zephyr climbed to approximately 40,000 feet on its first day. It then climbed up to around 60,000 feet during subsequent days before falling back down to 40,000 feet through the night times.
Videos of Zephyr
A video the launch of the Zephyr solar powered aeroplane can be viewed here on the BBC News website: Zephyr Takeoff Video.