The Freeloader Battery Charger is a new device for recharging AA batteries and AAA batteries directly from the USB port of a personal computer, or from a Freeloader Solar Charger. It's manufacturers claim this is the smallest and lightest AA and AAA battery charger in the world, and it can be used with both NiMH and NiCd rechargeable batteries.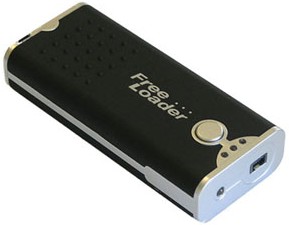 As shown in the image above, the Freeloader Battery Charger is in a tough rubberised case.
Technical Specifications
The Freeloader Battery Charger is supplied with two 1,300mah AA rechargeable batteries. These can be charged up to 75% of full charge within just 1 to 2 hours from the Freeloader Solar Charger and in 3 to 4 hours from a USB connection. If higher capacity rechargeables are used then the charging time is increased.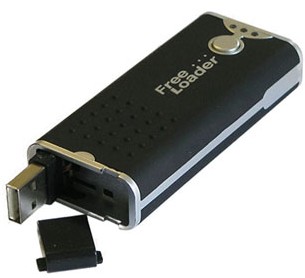 The charger is just 85 x 37 x 19mm in size and weighs in at just 54g including the batteries! The input voltage is 5.5 Volts with a charging current of 150 to 300mAh. Battery charge indicators (LEDs) display the charging status of the Freeloader and the power level of the batteries.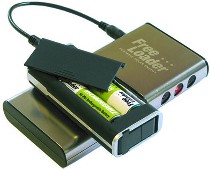 The Freeloader Battery Charger is supplied with a cable for connecting to the Freeloader Solar Charger (see image above), an AAA reducer adapter which enables AAA batteries to be recharged, detailed user instructions, and the two 1,300mah NiMH AA rechargeable batteries mentioned earlier.
Buy a Freeloader Battery Charger in the UK
The Freeloader Battery Charger is available in the UK for as little as £12.99. Click here to buy a Freeloader Battery Charger now.