There are now many portable solar chargers available for recharging batteries, media players, and mobile phones etc. (for example Freeloader, Solio, PowerMonkey Explorer, and even the handheld Hymini wind powered charger.
While fantastic at what they do, they are obviously limited in terms of the power output and voltage they can generate. They cannot be used to recharge the 12 Volt lead acid batteries used to start vehicles and power many devices, and which in turn can be used (with an inverter) to power larger 240 Volt AC mains-powered appliances.
The Freeplay FreeCharge Weza portable energy source (pictured above) is a product designed to fill that gap in the market. As with other Freeplay products, the Weza (Swahili for Power) uses human power to generate electricity – in this case using a foot treadle to put 25 to 40 Watts into an integrated 7Ah sealed lead acid battery (SLA).
The Weza can also be recharged from mains electricity (110 to 240 VAC) via an 18 Volt 1.5 Amp AC/DC adapter (included) in under 8 hours. Alternatively any DC power source from 13 to 21 Volts can be used – for example a 30+ Watt PV solar panel, or vehicle alternator – to recharge the internal battery.
Despite the relatively low capacity of the Weza's battery, it can be used to jump start vehicle engines with up to 400 Amps of output current possible for short bursts via the included heavy-duty jumper cables. Low currents can also be supplied via a standard 12 Volt DC cigarette lighter socket to power electronic devices, low voltage lighting and so on when camping out etc.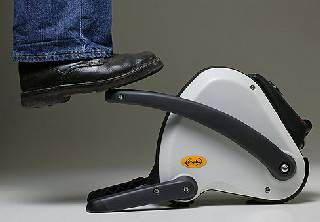 A five minute step charge (50-60 steps per minute for 30 Watt power) is sufficient for a 2 second crank cycle to start a typical 4-cylinder vehicle engine or 85 Hp outboard motor, or to power a mobile phone for over 2 hours, a 12 Volt GPS system for 22 minutes, or a 65W laptop computer for 2.5 minutes.
An LED display bar is provided to indicate the current level of charge in the battery, while a second display bar indicates the input effort level – i.e. the amount of power being generated by the foot treadle user.
The Weza battery has a low self-discharge rate of around 5% per month at 20 degrees Celcius increasing in hotter and colder environments. Since it is a lead acid battery it is essential to store it well charged if it is not to suffer a serious reduction in usable lifetime. Replacement batteries are available.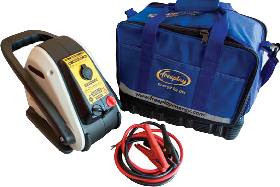 Weza has been built to last and to be user maintainable in an emergency. A service tool kit is provided together with a rugged nylon carry bag with waterproof base which has space to house all the accessories and tools. The foot treadle charging mechanism has been tested to 500,000 input cycles, but a two-year warranty and excellent dedicated product support from Freeplay are available in the event of any problems.
Buy Freeplay FreeCharge Weza
The Weza is available in the UK from many suppliers for around £210-£300.
NEW Click here to buy Weza now for just £169.99 from Ethical Superstore.
More Information and Useful Links
Click here to visit the official Freeplay Energy PLC website. The Weza information is available by clicking here.