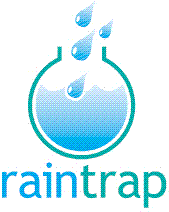 Klargester have a new rainwater harvesting system called Raintrap for garden watering and car washing etc.
Klargester Raintrap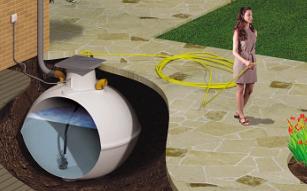 Pictured above is an illustration of the Raintrap system in action. The existing guttering and downpipe of the property are connected to an underground tank with integrated water pump. An internal self-cleaning in-line filter is used to prevent leaves and other debris getting into the stored water. This filter need only be checked annually (just after autumn) and can be removed, washed, and replaced if required.
If the tank should reach full capacity, any additional rainfall will be automatically diverted down the drain.
Water Pumping
Installed in the tank is a 240 Volt mains-powered pump. This pump can move water 100 metres on level ground through a 12.5mm diameter hose at a rate of 12.5 litres per minute. If the water is only to be pumped 30 metres, the flow will be 25 litres per minute. The pump has a life expectancy of around 5-6 years with no maintenance requirement during that time other than a periodic visual check.
12 Volt DC powered pumps (which could be powered directly from a solar panel are not supplied as the company has not found a suitable pump to meet their performance requirements. The 240 Volt AC pump supplied can of course be powered by PV solar panels via a suitable power inverter.
A wall mounted switch is used to control the pump to deliver the collected rainwater under pressure through the included 30 metre length of hosepipe. This standard-sized hosepipe can then be connected to any existing water sprinkler system, porous pipe irrigation system, water butt, or just used as is to water the garden, wash the car and so on.
Available System Sizes
Currently three different sizes of water storage tank are available with capacities of 2800, 3800, 4600 litres. The smallest system costs around £1,800 including full installation.
Klargester Environmental
Klargester are a company founded in 1963 to make concrete septic tanks. The company rapidly grew with the introduction of their BioDisc – used in sewage treatment plants. They continue today selling a range of domestic septic tanks, water storage tanks, and sewage treatment systems in addition to the new Raintrap garden watering system.
UK Rainwater Harvesting Suppliers
A two-page Klargester Raintrap Brochure (PDF 584KB) can be downloaded here.
Click here for a list of other UK Rainwater Harvesting Suppliers and system installers.