An Anemometer is a wind speed measuring device. For anyone interested in wind power, and using the wind to generate electricity for their home, an anemometer in an indispensible piece of equipment. Knowing the direction of the prevailing wind, the average wind speed at a particular location, and the strength of gusts is very useful when selecting and positioning a wind turbine generator optimally. For as little as £20-30 you can purchase an accurate digital handheld anemometer that will display the wind speed in mph, kph, knots, or metres/sec.
The most simple anemometers consist of four cups on the end of arms which spin in the wind. It is not necessary to point the device in the direction of the wind since it is a vertical-axis collection device. Today's more common digital anemometers have a small windmill or propeller like device inside them that must be pointed in the direction of the wind in order to get an accurate result.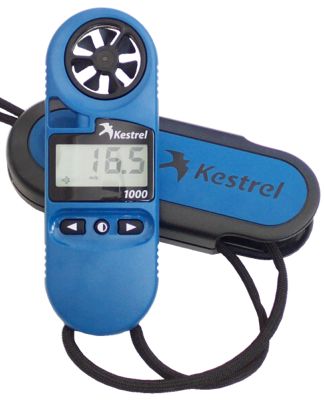 Buy an Anemometer
An excellent source of good quality anemometers is eBay. Below are displayed the latest eBay listings for the search term anemometer.
More Anemometer Information
Here are some useful links to online anemometer resources:
Make your own anemometer demonstrator
Make a usable working anemometer
Make an advanced anemometer designed to measure and record wind speeds for one month
Definition of an anemometer
Also useful is our article Real Time Wind Speed Map with wind speed forecasts across the whole of the UK.