The Shetland Islands are blessed with one of the world's finest exploitable wind resources. Plans are currently underway for a huge 600MW wind farm on the islands with building to be started in 2012, however there is already one small wind farm on Shetland having amazing success. Per unit of installed capacity Burradale Wind Farm is the most productive in the world.
The 3.68MW Burradale windfarm is located just a few miles outside Lerwick, the Shetland capital. Since opening in 2000, the turbines at this windfarm have had an average capacity factor of 52%, and in 2005 averaged an incredible world record 57.9%. These data certainly bode well for the future success of the proposed 600MW windfarm.

Burradale Wind Farm was constructed and is operated by Shetland Aerogenerators Ltd. In 2000 three Vestas V47 660kW turbines were installed with 47 metre rotors. They were commissioned on 17th December 2000. Pictured above the turbines are called from left to right: Mina, Betsy, and Brenda.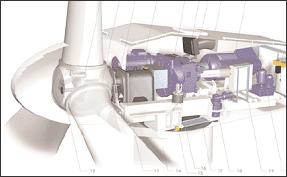 The second phase of the Burradale project saw two new Vestas V52 850kW turbines added (called Sally and Karen) in early 2003.
The completed wind farm has a total output of 3.68MW saving 6,200 tonnes per years of carbon dioxide emissions, and powering up to 2000 local homes.