In our articles Wind Turbine Water Heating and 200W 12V Immersion Heater we looked at how a wind turbine generator can be connected directly to an immersion heater element in a water tank to heat water. Since cold windy weather occurs at times when hot water is required, such a system can heat water more efficiently and cheaply than a solar water heating system – and the wind can blow for 24 hours per day. Heating water also makes an excellent dump load for wind turbines connected to a battery bank to prevent overcharging during heavy winds.
Back in 2006 for example it was very difficult to find suitable immersion heater elements for use with wind turbines. However, one benefit of the recent jump in oil, electricity, and gas prices is that this market sector received a surge of interest and a wide range of different wattage and voltage immersion elements went on sale. The previous time we updated this article in 2014, it was again almost impossible to find low voltage immersion heater elements, but at the time of this update (June 2017), they can again be found relatively easily.
Buy Immersion Heater Elements

Pictured above is an example 12V immersion element from a range of elements which we recommended for years. Unfortunately they are no longer available for sale anywhere. They were sold by emandco on eBay UK in the following four sizes:
(1) 1″ FI BSP
(2) 2 1/4″ MI BSP (standard immersion heater size)
(3) 3/4″ FI BSP
(4) 1/2″ FI BSP
Types 1, 2, and 3 were available with power ratings from 50 to 800 Watts, and Type 4 was available at up to 500 Watts. Black and red electrical connections were provided for easy connection to the 12V DC supply cables. Over the years, a 1200 Watt rated 48 Volt version, a 700 Watt 36 Volt version, and 24 Volt versions were added to the range.
These immersion heater elements were manufactured to order and despatched within just 4-5 working days from payment being received.
If we manage to find any more of these elements or find the vendor, we will add the details to this article.
Now in 2017, we recommend mechman61 for their wide range of low voltage low power immersion heater elements.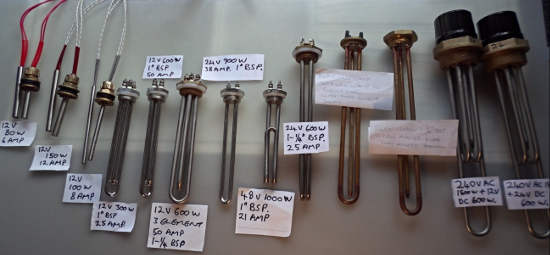 Pictured below for example is an excellent 300 Watt 12 Volt DC immersion heating element available for £40 including UK postage.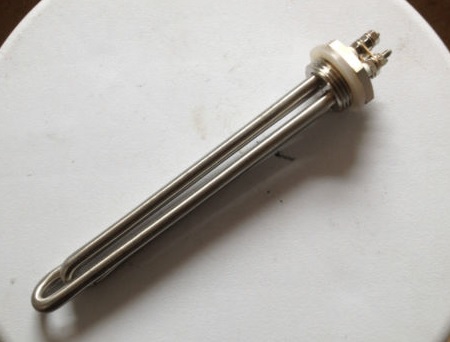 Alternative options include 12V, 24V, and 48V elements ranging in power from 80-1000 Watts.
Click here to find other suitable immersion elements for wind turbines and other low voltage applications from other suppliers.