Flashing LED on Electricity Meter
Flashing LED On Electricity Meter
Find out how to interpret the flashing LED light on electronic electricity meters
education
|
general
|
solar
&nbsp
Printer Friendly Version

If you have had an
electricity meter
installed in the last few years, and certainly if you taken advantage of the
feed in tariff to have a
solar PV
installation, your electricity meter(s) will be electronic with an LED which flashes. The rate of this flashing is proportional to the amount of
power
passing through the meter, and so useful information is there to be collected.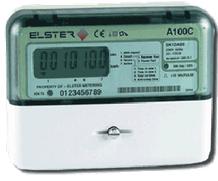 Pictured above as an example is an
A100C
single phase kWh meter which is commonly installed in the UK. To the right hand side of the meter reading is a small LED together with some writing as pictured below: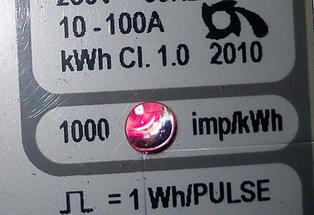 This type of meter will always be labelled in this way with a certain number of
Imp/kWh
. Imp/kWh is short for Impressions per kWh (unit) of electricity which passes through the meter where one 'impression' is a brief flash of an LED.
The majority of meters are labelled 1000 Imp/kWh which means that the LED will flash 1000 times for each kWh of electricty which passes through. The rate of the flashing of the LED tells you how much power is currently passing through the meter.
For the meter in the photographs above, the label states
1000 Imp/kWh
, so the LED will flash 1000 times per unit of electricity. We can use that value of 1000 to estimate the power. If a constant 1000W (1kW) is going through the meter, then in one hour (3600 seconds) the LED will flash 1000 times, so the LED will flash once every 3600/1000 = 3.6 seconds. With a constant 3000W (3kW) going through the meter, in one hour 3 kWh will pass through the meter (3 x 1000 = 3000 flashes in 3600 seconds) so the LED will flash every 3600 / 3000 = 1.2 seconds.
It is more likely that you will want to measure the rate of flashing, and from that calculate the power going through the meter. This can easily be achieved by reversing the calculation above as follows:
Power
(kW) =
3600
(secs in 1hr) divided by
(the seconds between flashes * number of Imp/kWh printed on meter)
For example, if the LED flashes once every 5.2 seconds on a meter labelled 800 kWh, the power going through the meter at that time will be 3600 / (5.2 * 800) = 0.865 kW.
(To measure the number of seconds between flashes it is best to start timing on a flash, and then time how long for 10 more flashes. Divide that time by 10 to get the average number of seconds per flash. Obviously this only works if the power is constant - if someone turns on the kettle half way through your time measurement the results will not be valid.)

Article Last Modified: 11:27, 17th May 2012
Comment on this Article
If you have any comments on this article, please email them to
neil@reuk.co.uk
.
---
Recommended Related Articles
People who read this article also enjoyed the following articles:
Low Voltage Battery Disconnect Circuits
Find out more about low voltage battery disconnect (LVD) circuits - used to protect batteries
Article Last Modified: 12:47, 31st Mar 2012
electric circuit
|
electronics
|
storage
12 Volt Battery Monitor Circuit with LM3914
Accurately monitor battery voltage with LM3914 LED bar graph driver
Article Last Modified: 13:09, 4th Aug 2012
storage
|
electric circuit
|
education
Relays and Renewable Energy
Find out more about relays and their uses in renewable energy applications
Article Last Modified: 13:33, 14th Aug 2010
electric circuit
|
electronics
|
general
Solar Tracker
Set up solar panels to track the motion of the sun across the sky to maximise power output
Article Last Modified: 10:46, 27th Jan 2012
solar
|
electronics
Solar Charge Controllers on eBay
Find out about the selection of solar charge controllers available on ebay
Article Last Modified: 15:43, 29th Jul 2008
solar
|
electronics
|
shopping
How Do PV Solar Panels Work
Find out how photovoltaic solar cells generate electricity
Article Last Modified: 14:04, 18th Jul 2011
solar
|
education
Solar Charge Controller
Find out more about Solar Charge Controllers
Article Last Modified: 11:12, 29th Oct 2009
solar
|
electronics
|
electric circuit
Dual Powered Lighting Circuit
Power a lighting circuit from renewable energy or mains electricity
Article Last Modified: 08:18, 14th Nov 2007
lighting
|
electric circuit