If you would like to make your own Biodiesel regularly it is worth investing in a biodiesel processor (or building your own). A suitable biodiesel processors will heat, mix, settle, and wash your biodiesel – all you need to do is put in the ingredients at the correct time and pump/syphon out the finished product to a storage vessel.
Below are details of biodiesel processors available here in the UK for under £1,000. At this price processors will typically make 50-150 litres of biodiesel at a time and are made of plastic rather than industrial quality stainless steel. If you require more biodiesel processing output than take a look at our over £1,000 UK Biodiesel Processors page for details of processors with outputs from 50 litres to many thousands of litres per day.
Domestic Biodiesel Processors
We first published this article back in 2006. Since then the number of manufacturers of biodiesel processors in the UK has grown enormously, and the processors on sale are now of much better quality and are more reliable and (relatively) easier to use than they were. Below are details of some of the most popular biodiesel processors currently on sale (July 2013) in the UK.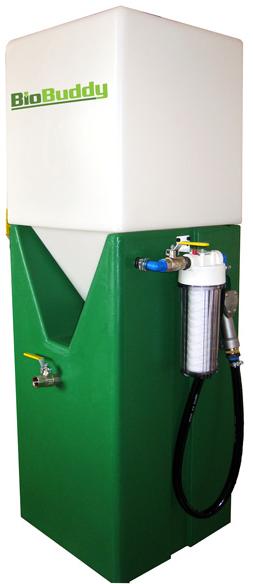 Pictured above is the BioBuddy 125L all-in-one biodiesel processor kit. This processor can make up to 125 litres of biodiesel per cycle from new or used vegetable oil. It is fitted with a fuel dispensing nozzle which makes filling up vehicles very easy. It is priced as low as £699.97 including UK delivery (discounted from usual £999.97). A 200 litre version (BioBuddy 200L) is also available for £999.99 sometimes discounted from its usual £1499.97.
Click here for the BioBuddy website.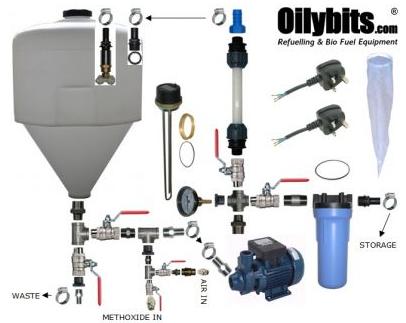 Oilybits Ltd offer a 60 litre and 120 litre biodiesel processing kits. Click here for exploded photographs of the component parts of their 60 litre processor, and their 120 litre processor (both PDF). These truly are kits of parts which need to be assembled with a range of tools. Some expertise in connecting up plumbing fixings would definitely be a help. However, these are very affordable at £425 for both the 60 and the 120 litre basic kits. They also offer fully integrated 120 litre kits for £999.
On the Oilybits website (from where these kits can be purchased) is an excellent and comprehensive Guide to Making Biodiesel which is a must read.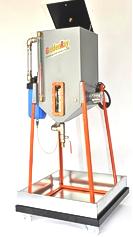 Pictured above is the GoldenRay GR60 Express biodiesel processor which is priced at £997. It is specifically designed for home use automatically converting used or new vegetable oil into biodiesel in around 6 hours (with 30-40 minutes of hands on preparation beforehand). A starter pack is provided with all new processors with sufficient chemicals to make your first batch of biodiesel. GoldenRay offer free training for customers (in Buckinghamshire) together with telephone and email support.
Click here to view the GR60 Express manual from the Golden Ray website.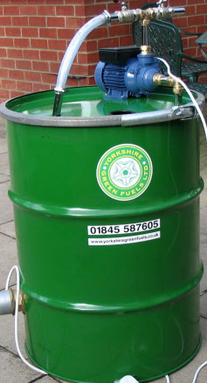 The biodiesel processor pictured above is from North Yorkshire Green Fuels a company with 8 years experience selling this processor. It is priced at just £355 plus £40 if you need to have it delivered. The processor is fully assembled with its pump and heater and comes with the 180 litre metal drum (maximum biodiesel output 160 litres per run) with removable lid. You just lift the lid and poor in the new or used oil. What it lacks in the automation of some other processors on the market, it makes up for on price, simplicity, and established reliability.
Click here to visit the North Yorkshire Green Fuels website.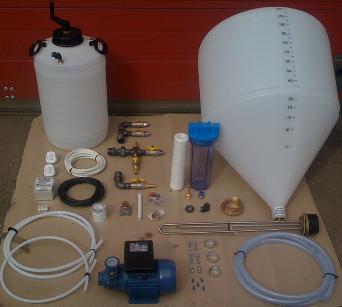 Pictured above is the C120 Biodiesel Processor Kit – another kit which requires assembly after purchase and some DIY skills at least, but the complex methoxide mixing tank comes pre-assembled with pipe fittings loosely screwed together ready for final tightening. The finished biodiesel can be pumped directly out of the tank into your vehicle or storage tank. The methoxide mixing tank is detachable via a new quick release mechanism so that the methanol can be stored safely.
This kit is priced at £530 from Bonnymans.
For a selection of alternative biodiesel processors as well as some special offers on some of the processors mentioned above, click here: UK Biodiesel Processors. Prices start from as low as £100 for the very simplest systems.
Please take the time also to read our article Tax on Biofuels to ensure you understand the legal requirements of biodiesel producers in the UK.