Pictured below is an automatic controller for a poultry incubator. The eggs in this incubator must be kept within a tightly regulated temperature range, they need to be automatically turned at regular intervals, and there is also a fan to be controlled.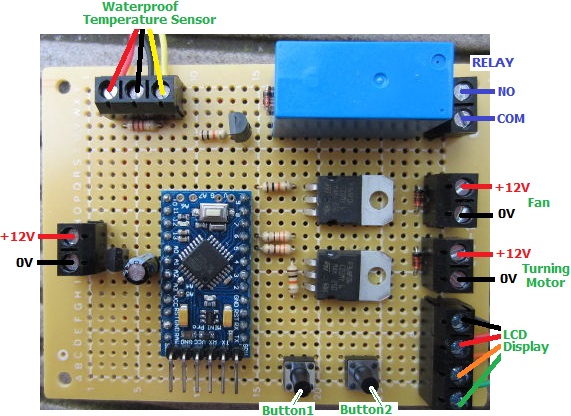 The owner of this incubator would like the temperature of the eggs to be kept between 37 and 37.5 degrees Celcius, so there is a heating element which is switched by an on board relay following the temperatures measured by a DS18B20 waterproof sensor.
The eggs are to be turned every 30,45,60, or 75 minutes, and to do this the motor must run each time for a few seconds. Both of these timing intervals can be set by the user.
The fan has three modes of operation – on, off, or automatic, and in automatic mode the user can select an interval of 5, 10, or 15, etc minutes on and minutes off repeating.

All of the current settings and system status are shown on a backlit 16×2 LCD display (see above), and all user settings are programmed using this display and the two buttons on the controller board.
If you need a controller of this type, please email neil@reuk.co.uk with details of your exact requirements. For details of an alternative incubator controller which also controls humidity, click here: Poultry Egg Incubator with Humidity Sensor.