Pictured below is a controller designed for competitive shooters to automatically turn targets on the range to face to and away from the shooters for the required length of time.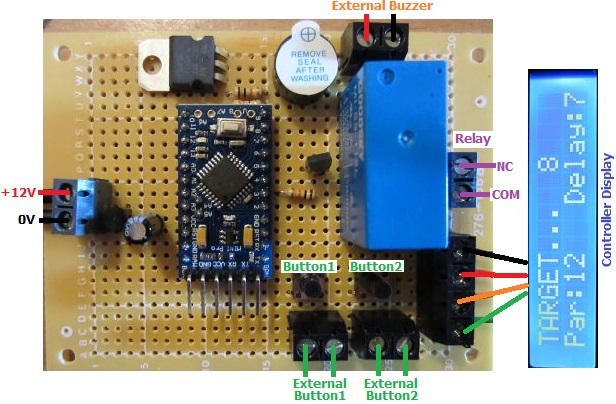 The targets are controlled by air solenoids. When these are energised the targets face away from the shooter, so our controller has a relay with NC and COM connections (normally connected). When the relay is energised, the NC-COM connection breaks and the targets turn to face the shooter.
After pressing a button to start the timer, there is a user selected delay of 3 or 7 seconds. Then the relay is energised to turn the targets to face the shooters and a buzzer sounds for half a second. The targets are kept facing the shooters for a user selected 'par' time of 1,2,3,4…15, 25, 35, 90, 165, or 210 seconds. Then the relay is de-energised, the targets turn away, and the buzzer again sounds for half a second. The system then resets ready to be used again.
Pressing the other button acts as an override so that the targets can be kept facing the shooter until the button is pressed again to cancel the override.

An LCD display is provided to make setting up the device with the required delay time and par time easy, and also to show a countdown of the number of seconds remaining during the two countdowns when the system has been triggered. It also constantly shows the current delay and par time settings to make the system easy to use.
We have added screw in terminals to the board so that a louder external buzzer/siren can be added, and so that external buttons can be mounted if the controller is to be housed in a waterproof box etc.
If you require a controller of this type (here is another of the competitive shooting timers we have made recently), please email neil@reuk.co.uk with details of your exact requirements.