With any renewable energy system it is important to track at least the status of the battery bank, and the voltage and current being used and generated. With simple domestic systems this tracking can be carried out with something as simple as a digital multimeter, or a basic ammeter and voltmeter ranging to advanced measuring equipment such as the Watts Up Meter and beyond.
However, these methods of analysing the performance of a renewable energy system require the presence of an operator. If you want to know the current generated over the course of a night by a wind turbine generator you would have to stay up all night writing down the readings displayed by the ammeter.
Data Logging Renewable Energy Systems
Ideally there would be electronic devices available which would automatically measure the voltage and current of the RE system at fixed intervals – for example, once every 5 seconds. It would save all this information in memory to be downloaded, analysed, and visualised on a computer later on. Good news – such data logging devices are available relatively inexpensively.
USB Temperature Data Logger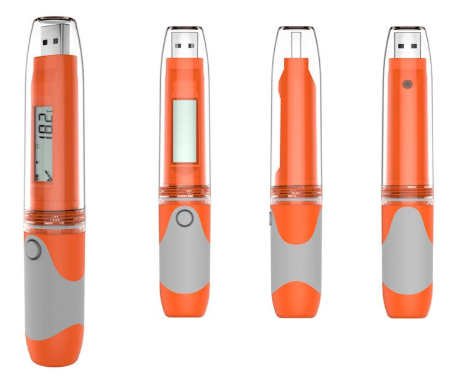 Pictured above is the RC-51T low-cost USB temperature data logger. This device offers ±0.5°C accuracy between -20°C to +40°C, an overall range of -30°C to +70°C, a resolution of 0.1°C, a sample rate settable from 10 seconds to 24 hours, and will hold 32,000 temperature readings in memory. RC-51T automatically generates a PDF summary of the stored data when it is plugged into a PC, and the associated software can be used to view the data as well as to export it in various formats. See here for our detailed review of the RC-51T USB temperature data logger.
Lascar USB Voltage Data Logger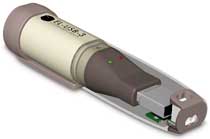 Pictured above is the Lascar EL-USB-3 Voltage Data Logger. This British designed (HK-manufactured) device (costing around £39+VAT in the UK and $69 in the USA) will measure up to 32,510 voltage readings (from 0-30 VDC) every 1 second, 10s, 1 minute, 5m, 30m, 1 hour, 6hrs, or 12hrs and store them. It can then be plugged directly into the USB port of a Windows PC and the data downloaded, graphed, printed, and exported to other applications such as Excel.
The EL-USB-3 is supplied with a set of leads fitted with crocodile clips to be connected to the terminals of the battery bank to be measured, one long-life lithium battery, and the necessary Windows software (98, 2000, XP).
The three-page technical specification for the EL-USB-3 Data Logger can be downloaded here: EL-USB-3 Specs (PDF).
NEW – Click here to buy the EL-USB-3 0-30V Data Logger now from £30+.
(Lascar also sell a similar temperature datalogger, carbon monoxide datalogger, and a joint temperature and humidity datalogger – products which are available to purchase at the same link above.)
HOBO 4-Channel External Data Logger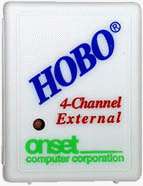 Pictured above is the HOBO 4-Channel External Data Logger available in the USA for $105.00. Measuring just 2.4 x 1.9 x 0.8 inches and weighing 27 grams, this tiny device will measure and record up to 32,520 readings with user-selectable sampling intervals from 1/2 second to 9 hours, and will record for up to one year powered by an internal CR2032 lithium button cell.
The HOBO 4-Channel External Data Logger can be connected to a computer using a serial cable (available including the necessary software for a further $25.00). The software enables the time and date on the data logger and the sampling interval to be set, and is used to download the logged data. (If a USB connection is required it is possible to use an easily obtained serial-USB adapter.)
With four channels it is possible to record up to four different values at the same time – for example the voltage of the battery bank, the current in, current out, and the temperature. A range of sensors are available for different voltages and currents, however it is possible to use the cheapest available voltage input cables ($8 each) and then make a voltage sensor with a voltage divider using a few resistors, and a current sensor using a suitable shunt.
If you need a bespoke data logging solution, email neil@reuk.co.uk with details of your specific requirements. We have details of some of the data loggers we have built here: REUK Dataloggers.