Pictured below is an FRM01 multi-function relay cycle timer PLC (programmable logic controller) module.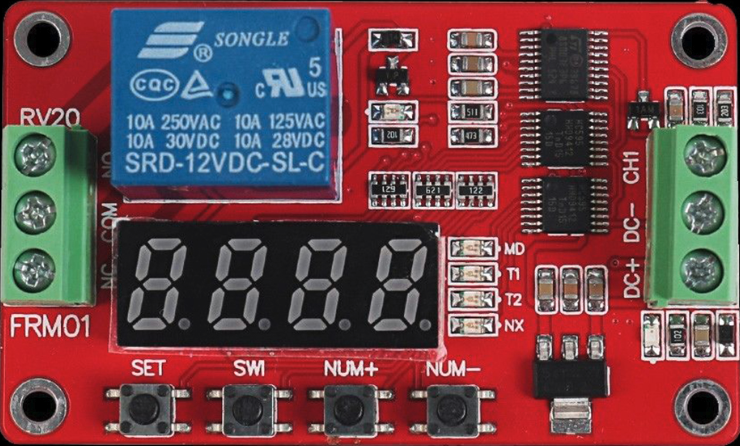 This small (65 x 40 mm) module offers 18 different timer functions programmable from 0.1 seconds to approximately 275 hours and used to control the on-board 10A rated relay. Some functions start automatically with power-on, others can be triggered to start (and/or repeat) with a high level pulse signal; there are delay functions, limited cycles (1-9999 repeats), and unlimited cycles.
One of the functions effectively turns this module into a latching relay board too – high pulse signal to close the relay, then another high pulse signal to open the relay.
Overall these modules are very powerful and useful in a vast range of applications requiring timer control.
Click here to buy FRM01 Timer for approximately £5 including delivery.
eBay sellers tend to offer no documentation and minimal information about these timer modules, but we have the comprehensive 8 page FRM01 User Manual (PDF 225Kb) available for download here.
Here is a video systematically demonstrating all 18 of the functions of this cycle timer