We have made many poultry egg incubators and timers over the last few years – devices which monitor and maintain temperature and humidity and also turn the eggs at regular intervals. Below is an image of one such incubator controller which we were recently commissioned to build which is a bit different from those.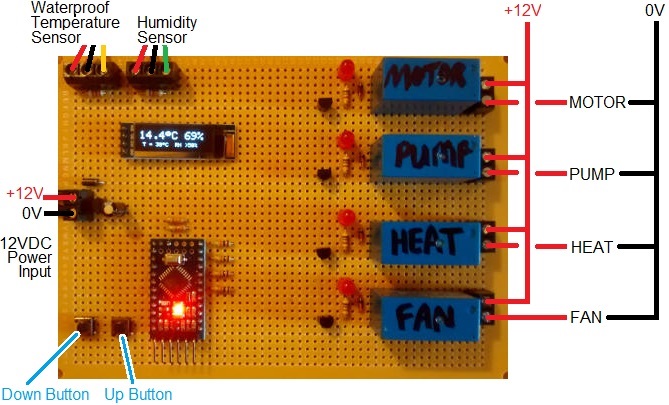 The motor is set to turn for three seconds five times per day to rotate the eggs. This is standard.
The heating element used for this incubator is a bit oversized, so we have to be careful not to overheat the eggs when it is used. When the temperature is measured to be 0.5C or more below a user set target temperature, the heater is turned on. Then, when the target temperature is reached, the heater is turned off. Because the element remains hot after being turned off, the incubator will continue to heat up to a little above target temperature while the element cools down. Therefore, there is also a fan which turns on just in case the temperature exceeds the target by 1.5C or more to cool things down long before the eggs overheat.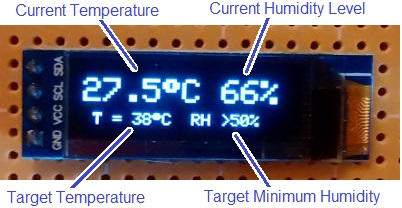 Humidity management is also achieved rather differently than usual. In all previous incubators we have made which have included humidity sensing, a commercial humidifier has been switched on/off to maintain appropriate humidity levels. For this controller, when humidity is measured to be below a user set target minimum level, a pump is turned on for five second which adds water to a container in the incubator. The rapid evaporation of this water in the warmth of the incubator increases the humidity level back above the minimum rapidly. In order to prevent flooding or raising the humidity level excessively, the controller will run the pump at most once every ten minutes.
This entire system is powered by a solar charged 12V battery bank.
If you need any type of incubator (or humidor), please email neil@reuk.co.uk with details of your requirements.